Swoooooon  
Image source Facebook
With all the devastation from Irma, Maria, Harvey, Jose, the earthquakes in Mexico…and that was just in the last month or so…it's hard to see a silver lining. So when a bunch of good lookin' first responders posted a selfie with caption, "Officers Norman, Hamill and Rengering…part of the night crew getting ready to do some work. #Irma." Ladies around the nation swooned…and they swooned hard.
I mean….how could you not, look at these handsome devils! (Sorry, Jim.)
I'm not talking about middle school crush; ladies are ready to commit crimes (joking…right?!) to encounter these dashing men. Over 127,000 women (I'm sure some men too…) commented on the post including Mrs. Erika Green who joked (?), "I'm a happily married woman. I'm a happy married woman…who has no business in Gainesville…robbing banks…in broad daylight…"Oh, Erika, I'll join you in the task…your husband will bail us out…right? Right…?!
Luci Kane commented, "I can't believe how many women are objectifying these poor, fine, young, strong, handsome, brave, sexy, delicious, virile, ovulation-inducing, mouth-watering, beefy…I can't remember where I was going with this…"
The humble men in blue replied with the following update.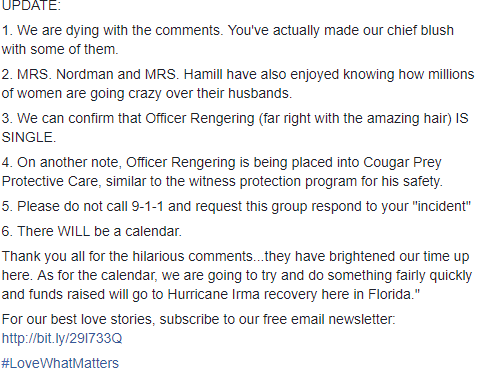 Image source Facebook
These dudes are good looking, selfless heroes AND they have a sense of humor…someone fan me off…
Okay, all jokes aside, these guys have taken their recent attention and brought it to good with a calendar to raise funds for Hurricane Irma – I mean how could you not swoon over these men? I'll take twenty. For Florida…
Posted by Christina B.