Taking "Insta-Stalking" to a Whole New Level
They say that imitation is the most sincere form of flattery. But sometimes, it can just be straight up creepy. In the case of Lauren Bullen and her Instagram imitator/stalker Diana Alexa, I'd definitely say it's on the creepy side.
Lauren Bullen is insta-famous for her incredible account @gypsea_lust. On her account, you can follow her travels to exotic locations around the world. She wears the trendiest clothes, has perfect hair, and oh yeah… has a super hunky boyfriend who tags along with her. Sounds rough, huh?
Well, it's not surprising that everyone is jealous of her life (I sure as heck am). But, apparently her life was so fascinating to one of her followers, Diana Alexa, that she decided to legitimately copy it. That's right. She traveled all around the world and took the same exact pictures in the same exact spots.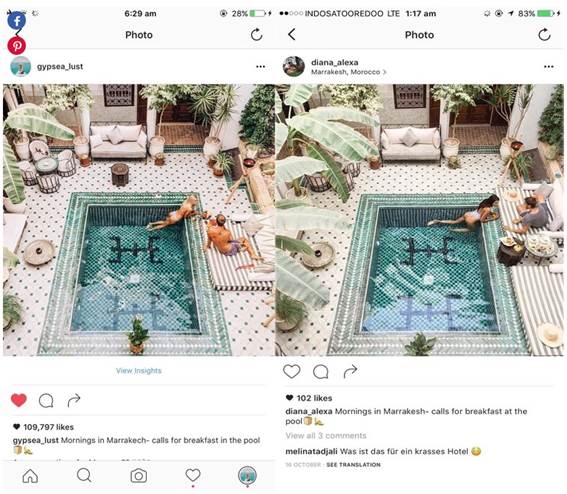 Images source Gypsea Lust
Everything was set up exactly the same in Diana Alexa's images (seen on the right) down to the caption, the emojis, and even the clothes!
As this article in Teen Vogue explains, Bullen at first thought these images were photoshopped. However, after investigating further she realized that they were indeed exact replicas. The article explains that Bullen even reached out to Diana Alexa, who proceeded to make her account private and deleted the images. As NY Mag points out, this kind of effort requires serious time, money and dedication to pull off!
Bullen doesn't hold back on her blog explaining the whole ordeal. She applauds Diana Alexa for "causing a reaction" and even admits that this is the point of creating art. However, I can't help but think Bullen is the one who really benefitted from this. Yeah, she already has thousands of followers, but with this scandal she has gained media coverage from major news outlets all around the world including Daily Mail, Vogue Australia, The Inquisitr and more! Like the old saying goes, "there is no such thing as bad publicity."
Posted by Ally A.