Tall Man in a Little Skirt
When androgynous suits, boyfriend jeans and tuxedo jackets began gliding down the runways of elegant female models in 2012, I happily traded in my feminine skirts and baby doll dresses for a tailored suit top and the daintiest of neckties. I wholeheartedly approve of bending gender roles when it comes to the art of dress (and decorum, for that matter). What some people call Man Repeller, I call sensational, Avant-garde, and well, comfortable.
So am I a bit sexist when I say that the new menswear lines, like those shown at London's fashion week, are pushing the fashion gender boundaries a little too far? I approve of Kanye's skirt and am pro Marc Jacobs' little lacy number, but designer J.W. Anderson took androgynous to a whole new level in his most recent collection, and he wasn't the only one. Is the future of menswear a feminine collage of Victoria Beckham and Breaking Bad?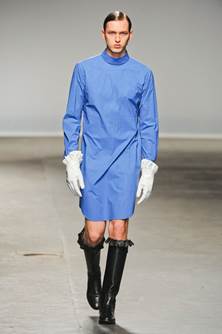 Image source Patentleathercupcakes.com
This isn't to say I don't find the pieces appealing, if this is the future of men's attire, I'll be spending a bit more time meandering through the first floor of Neimans, that's for sure. High waisted wool mini-shorts and grey peplum pinstripe pants, I'll take one of each, in a petite, please: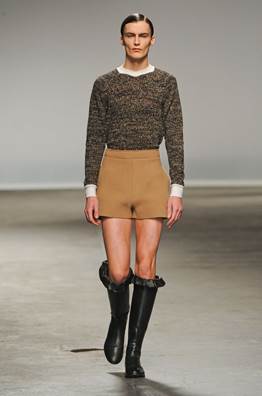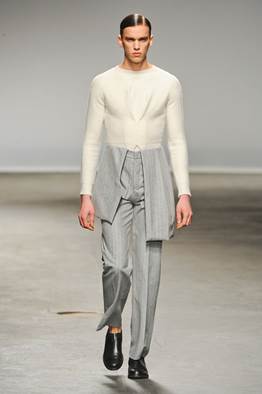 Image source Patentleathercupcakes.com
But I don't care what your chromosomes are, in the immortal words of Downton Abby's Lady Grantham, "I Cahn't."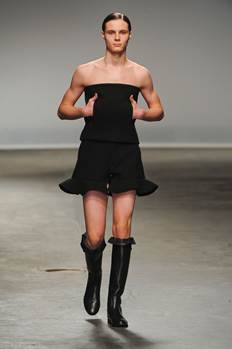 Image source Patentleathercupcakes.com
Posted by Jenna