Tattoo 101: Don't Be A F&*king Idiot.
Image source: Twitter
The cardinal rules of getting a tattoo are as follows:
• Don't get it anywhere that may stretch and look bad as you get older
• Don't put someone's name on your body unless they're your child or they've died
• Don't be stupid
Breaking the third cardinal rule was a Cowboys fan, Jordan Garnett, who got a little too excited about the idea of the Cowboys winning the Super Bowl. On December 6th – two long months before the scheduled February 5th game – he got a tattoo of the Dallas Cowboys iconic star with the words "SUPER BOWL LI CHAMPIONS" wrapped around it. Only there's one problem… they're already out of the playoffs.
To repair his reputation and his erroneous prediction, he's added an extra "I" to say Super Bowl 52 which is next year. I may be superstitious but I'd go as far as to say that this is just a bad season waiting to happen.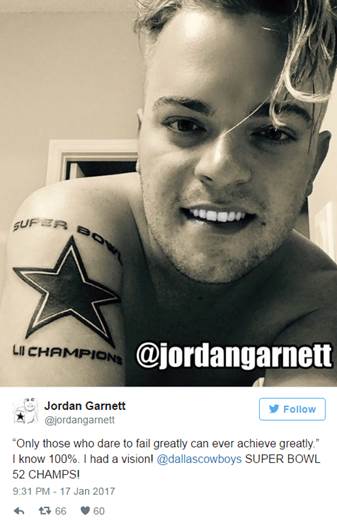 Image source: Twitter
F&*king idiot.
Posted by Emily