Tech-Savvy Trinkets!
Image source: cnet.com
On my 9th birthday, a classmate bequeathed to me a gift that instantly surpassed the other items in my celebratory cache of Lisa Frank themed pre-teen toys. It was a large opalescent mood ring that fit fantastically on my pointer finger and, as is the nature of mood rings, shifted its hues from green to blue to red right before my entranced, glitter-lidded eyes. I remember thinking it was the most magically modern trinket in all the land and was constantly checking it and announcing updates on my ever-changing moods, much to the chagrin of my exasperated parents.
But that mystical little keepsake (which still resides in my "adult" jewelry box) is now a stone wheel in comparison to the ingenious tech-savvy baubles available today. From gilded and enameled designer Fitbit covers born from a perfectly paired collab with Tory Burch, to the trendiest of tech bracelets, the brainchild of the Opening Ceremony Atelier and the Intel gadget brigade; the MICA smart bracelet is in essence the less smart but much prettier younger sister of the homely yet productive Apple smart watch launching this March.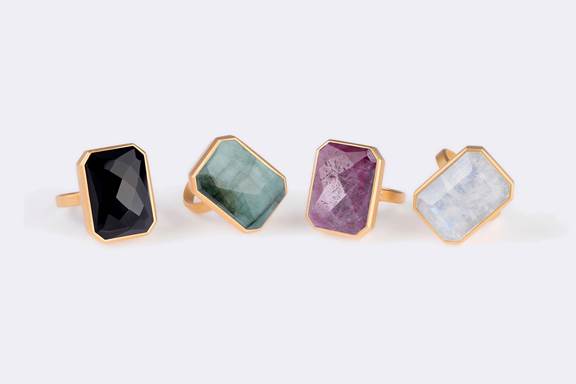 Image source: gurlinterrupted.com
My favorite new tech-savvy gem-embellished gadget resembles a cocktail ring, similar in size and shape to my beloved childhood accessory and in true 90's talk is totally more Stefan than Cousin Urkle. Devised by the new tech start-up, Ringly, this delightfully simple and chic bauble serves as a discrete social alert system that allows the wearer to be a likeable human that actually puts their smartphone away instead of upside down on the dinner table. The ring connects with your phone and alerts you to important messages via tiny vibrations from your own configurations so that you no longer have to be chained to your phone.
What's next in the world of glittering gadgets? One can only guess, but if we ever devise a statement necklace that bars junk food from crossing the threshold from my hand to my mouth you can bet your big holiday bippy I'll be the first in line.
Posted by Jenna