The Afterlife of the American T-Shirt
Image source NPR
NPR's Planet Money T-Shirt Project tracks the life of the American clothing staple from fields of budding cotton, to the machines, workers and delivery methods that produce them, and finally to the consumer. Its piece on the afterlife of donated American clothes shows how old lacrosse jerseys and bar & bat mitzvah commemorative T-shirts are today worn in abundance by African locals.
One bat mitzvah T-shirt found in Kenya really stood out, as it was rife with clues as to the original owner. Emblazoned with the theme "Dancing with the Toons," the shirt displayed the name of the girl of honor (Jennifer), event date (Nov. 20, 1993) and even had the owner's name (Rachel Williams) written inside of it. Could the owner of this shirt be found, NPR asked, with an online query?
She sure could – in one day! Adam Soclof of Jewish news service JTA saw the post. One Facebook graph search later, he located Rachel Williams, as well as bat mitzvah girl Jennifer (who was apparently REALLY into cartoons at age 13!).  The shirt was indeed the one she gave away at her bat mitzvah 20 years ago at a Somerset Inn in Troy, Michigan.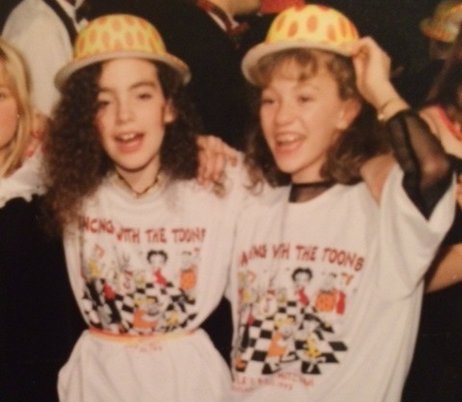 Image source NPR
Here's a photo of Jennifer today: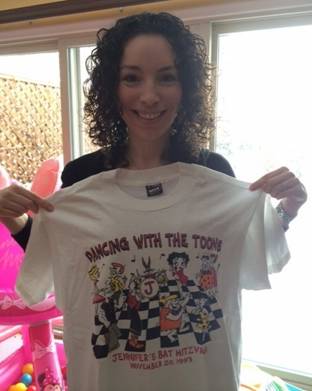 Image source NPR
Now this bat mitzvah t-shirt from 1993 is an Internet celebrity in its own right.  The shirt has appeared on international news outlets, from TIME to the Jerusalem Post, and countless Tumblr accounts. Out of the billions of pounds of used clothing the U.S. exports each year, most of which winds up in clothing markets in sub-Saharan Africa, Jennifer's party favor is making us all think twice about how we're globally connected, how we consume goods and where those old *NSYNC and Little League T-shirts we gave to Goodwill are living now.
Posted by Michelle