The Art You Never Saw Coming (Cuming?)
Image source Gizmodo.com
Things are about to get weird, people―fair warning.  In an effort to open the conversation about missing love & intimacy after the death of a spouse, artist Mark Sturkenboom created a memory box called 21 Grams which includes a dildo capable of holding – you got it– 21 grams of ashes in an embedded gold urn.
Yes, you read that correctly, a man made a dildo where someone can stash 21 grams of their loved one's ashes. After you've wrapped your head around that concept, there's more.
This blown-glass "love toy" is part of a larger memory box which can be used to help a widow, or anyone for that matter, "go back to the intimate memories of a lost beloved one," according to the artist.  The toy itself is stored in a wooden box with room for a ring, a perfume/cologne scent infuser, an Ipod amplifier, and yes, a pedestal for proper toy storage.  Oh, and it opens via a key on a chain, which can also be worn as a necklace.  Take a look for yourself…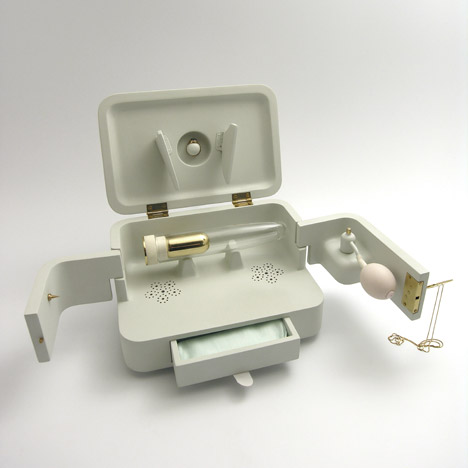 Image source Dezeen.com
I suppose this is somewhat in line with keeping a lock of hair or some such, but the fact that the words "dildo" and "sex toy" can be incorporated into this memory capsule gives it a whole new mess of meanings, including the fact that the term 21 Grams comes from the early 20th-century belief that the human soul weighs 21 grams.
However, I'm not going to pass judgment, unlike the media, which has continued to refer to this as a "dildo" or "sex toy" despite the artist's request otherwise.  I'm just sharing the news that this interesting new item is now a part of our world — and available for use when a loved one has left yours.
Posted by Danielle