The Best Thing to Happen to Sweets Since 100-Calorie Packs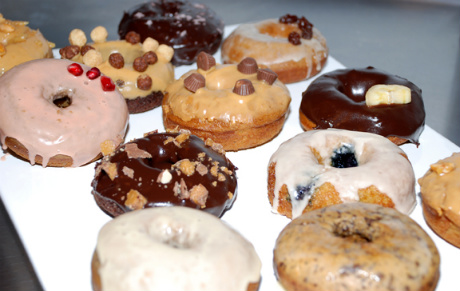 I've always been a sucker for donuts. As an ultra-stressed college student, I'd rather erase my anxiety-filled day with Boston Creams than beers. Not the healthiest of habits, I know. But for now, I can't seem to shake my infatuation with the puffy fried rings that can be purchased on every block in New England.
Thankfully for donut addicts like me, a new and improved version of the million-calorie treat has arrived. Dirty Betty's, a pop-up Chicago donut shop, opened on May 18 and offers a healthier donut alternative.
Dirty Betty's "Good Clean Donuts" are all-natural and baked instead of fried— and that's not even the best part. Daily Candy recently revealed that each transfat-free treat racks up less than 200 calories—a pretty miraculous number considering the 500 calories and 84 carbs in a single Dunkin' Donuts Blueberry Crumb Donut. Fresh flavors like blueberry with lemon glaze, peanut butter cup, and fresh banana with chocolate Nutella glaze substitute the artificial confections offered by leading donut shops.
So Chicagoans, while I work to suppress my extreme jealousy toward every one of you and wait for a similar store to open up in the Boston area (hint hint Boston dessert shops), get your butts to Dirty Betty's and report back. If these donuts are as good as they sound, I just might have to plan my first trip to the Windy City!
Posted by Mary
Posted By: netgain