The Brat Pack
The Brat Pack
Despite the fact that I was born in the nineties, I am obsessed with movies from the eighties, specifically 1985. Upon entering middle school, I met a new friend who introduced me to the genius works of art, and our friendship was cemented over nachos and marathon viewings of Sixteen Candles, St. Elmos Fire and The Breakfast Club (twice in one week) after school. There was something so intriguing about these rebellious teens with big hair and crazy jewelry and plots surrounding sex, drugs and rock and roll. And to emphasize the true eighties vibe, almost every scene was enhanced with the sultry sound of the saxophone, just in case the dramatic plot-lines didn't invoke enough emotion.
Despite Jules' (not-so) slight coke problem, Billy Hicks' drinking issues, Andrew's daddy issues, or Andie's overall boy issues, I wanted to be friends with The Brat Pack in the worst way, even the basket case. Even today, I love finding out fun facts about each of the films; in case you're obsessed like me, read below for the top three fun facts about the Brat Pack films.
The Breakfast Club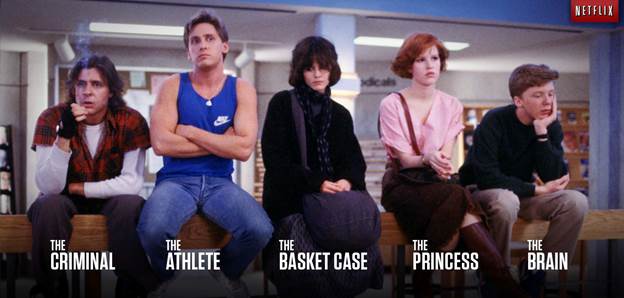 Image source 365thingsaustin.com

 It was supposed to be called "Detention". (Thank god someone realized how dumb that title is.)
The film's gut-wrenching heart-to-heart, where all five kids spill deep, dark secrets, was ad-libbed. (Didn't know it was possible to fall more in love with this movie, but I just did.)
 Anthony Michael Hall's mother and sister appear as his character's mother and sister in the beginning of the film. (See, how cool are these movies? Amiright?)
Sixteen Candles


Image source milleroutdoortheatre.com
John Hughes wrote the script in 1 weekend. (Just reiterating the fact the Hughes is a genius…)
Molly Ringwald and Anthony Michael Hall spent their downtime crashing Bat Mitzvahs. (Just another reason I want to be their friends IRL and fake life…)
 Molly Ringwald almost lost the part of Samantha to Ally Sheedy, her future The Breakfast Club (1985) co-star. (It just wouldn't be the same…)
St. Elmo's Fire (My personal fav)


Image source tvguide.com
Mare Winningham played a virgin while she was pregnant. (Oh the irony…)
 Joan Cusack turned down the role of Jules. (Thank God…No one can play Jules other than Demi, no one.)
 The poster for 'St. Elmo's Fire' featuring the characters sitting on a bench in front of the St. Elmo's Bar was actually a candid photo taken while the actors weren't aware they were being photographed. The image captures these close friends, relaxing between takes. (Again, I need to be friends with these people.)
In a time where we are faced with awful films like Sharknado (need I say more?), it is important to go back in time a bit and remember when films had actual plot lines and life lessons. While 1985 may get further and further away, I will always continue to watch these films and travel back to a time where values revolved around friendship, love and the occasional sultry tune from a sax.
Posted by Christina