The British are Judging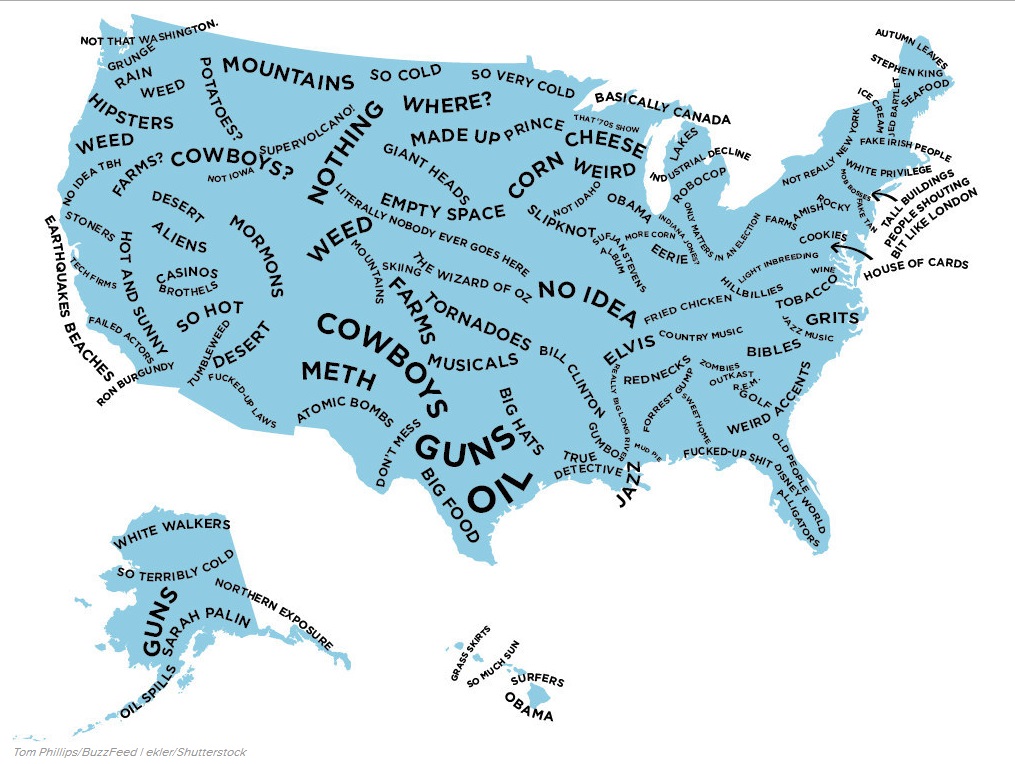 Image source Buzzfeed.com
Ah, America. It's one big, beautiful country that hosts a multitude of widely varied cultures. How great is it that we can lay claim to both Ellen DeGeneres and the dynamic cast of Duck Dynasty? The Hot Brown and the health food craze? Momofuku and McDonalds? Pretty damn great, really.
We are the land of the free, and the home of the brave (among other things). We like to think we're pretty self-aware, but then, are we? Buzzfeed recently handed a group of their British counterparts a map of the US and asked them to go stereotype-crazy. Here are the highlights, starting with my home state of Rhode Island:
Rhode Island – Tiny. Not in Rhodes. Not an Island.
Massachusetts – Fake Irish people. Mark Wahlberg films. Harvard. MIT.
Maryland: Lots of Marys?
West Virginia: Light inbreeding. Take me home, country roads.
New Mexico: Meth. Walter White. Not as good as old Mexico.
Oregon: Hipsters. Craft beer. Farms?
Michigan: Lakes. Industrial decline. Robocop.
New York – Bit like London. New York is literally just the city. Wait, the rest of this is in New York too?
If you need me, I'll be here in MA watching a Mark Wahlberg film with a bunch of fake Irish people who got into Harvard or MIT. Pip pip.
Posted by Erin K.
Posted By: marketingmarlo