The Compliment Train
Image Source: @beccatilley on Instagram
While scrolling mindlessly through Instagram recently, I happened to stop on a picture of former Bachelor contestant (x2) Becca Tilley. For those who don't know her, Becca was on Chris Soules' and Ben Higgins' seasons. Since then, she's started her own radio podcast and, like other former Bachelor/Bachelorette contestants, promotes products for companies on her social media.
The picture I had stumbled upon was just a normal selfie, but it was the caption that caught my attention: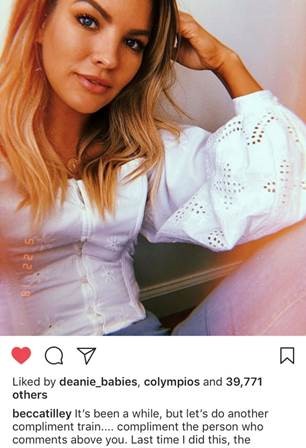 Image Source: @beccatilley on Instagram
I had never heard of or seen a "compliment train" done in a photo's comments section before, and I loved the idea. The "compliment train" is a nice, small act of kindness that many can participate in to help others feel good about themselves. In today's society, I am sure everyone could use a little pick-me-up. This is also something that hardly takes any effort, therefore everyone and anyone is able to join in.
It would be interesting to see more celebrities jump on board with this game. Can you imagine the span of comments someone like Kim Kardashian could receive with her millions of followers? It would be incredible.
Of course, not everyone is going to participate or play the game appropriately, but it is nice for the ones that do. Even if Becca is the only one in my feed to ever participate in this, I am glad to see at least one person taking time away from posting their promotional content to spread some love!
Posted by Madison