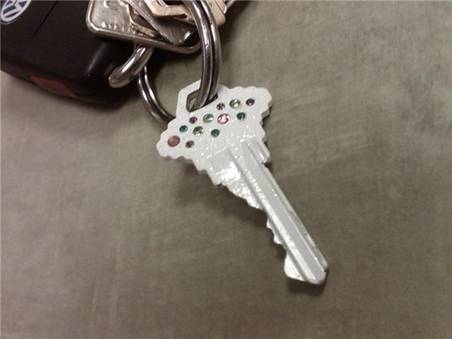 The DIVA Key…Enough Said!
I don't know about you, but lately I have been acquiring a collection of keys. It seems as if there are keys for everything—work, car, house, mailbox, front door, back door, even my desk drawer. It's always hard to figure out which key is which and, if I'm a little tipsy, I can more or less forget about trying to figure out which one is the house key. Any attempts to differentiate my keys in the past have been a bust; the colored rubber tops fall off, sharpie marker or nail polish wears off, and individual key chains weigh my bag down. I didn't think I would ever find a 'sexy' alternative…but I was sorely mistaken!
While waiting in the checkout line at True Value on Newbury Street, I glanced to my right and hanging from a key kiosk was the 'Diva Key.' As soon as I set my eyes upon this white bejeweled beauty, I just knew that it was going to solve all of my 'key' problems. I had the cashier re-create my house key and the rest is history. I can now spot the white key no matter what and, for just $5, I was able to create a unique accessory that makes daily life prettier. The Diva Key comes in white and black, as well as sport themed–football, baseball, and even hockey!
So if you too suffer from an abundance of keys and need a trendy solution, take a trip to a local hardware store…as I found out, there really is a key out there for everyone!
Posted by Jillian