The Halloween Trend That's BLOWING Up (Literally)
The leaves are changing color and the air is getting crisper – it can only mean one thing: Halloween is right around the corner! Anyone that knows me knows that I am a huge Halloween fanatic and have even won a few costume contests in my day.
Following in the steps of Violet Beauregarde, inflatable costumes seem to be all the rage this year. Recently, I took a trip to Salem to celebrate the season. It may have been the couple of beers we enjoyed at Notch Brewery, but my friends and I were bewildered at a costume on a little boy walking in front of us. With his legs hanging out in front of him, an alien held him up. From a distance, we couldn't figure out if there were one or two people in the costume, and it wasn't until we walked closer that we saw the inflation vent.

Image Source: Morph Suits 
Since then, I've noticed inflatable costumes popping up everywhere: inflatable pizza slices and pineapples (but never the two together, because that's just WRONG) to rocket ships to piggybacking animals. I'm not quite sure how easy it would be to channel your inner Beyoncé on the dance floor at a Halloween party with one of these costumes on, but they sure are clever.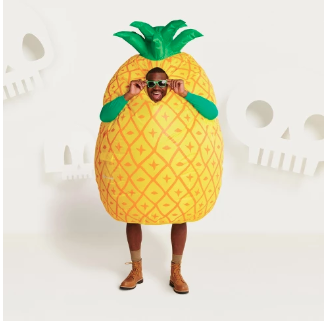 Image Source: Target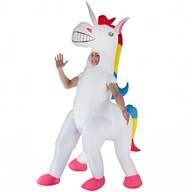 Image Source: Morph Suits 
So, do we think I could rock the blow-up unicorn to marloween?
Posted by Julia