The Holidays are Here: Time to Get Your Butt in Gear
With Thanksgiving now behind us, the holiday season is in full gear. I have to admit, I always find this time of year a little daunting ― from holiday parties, cocktails, treats we only see once a year and family gatherings with more food, food, food! So as any female trying to keep her midriff from expanding would, I took to the Internet. While browsing one of my favorite sites, marksdailyapple.com, I found this article, 10 Rules of Successful Exercise. What, you may ask, is successful exercise? Don't worry, I asked the same thing. I work out sometimes, I eat healthy, but most of the time I feel as if I'm not getting anywhere and those fitness goals of mine are as dusty as my tennis racquet.
So I took a gander and – honestly — it was really helpful! It appears that if you don't like the exercise you're doing, or aren't invested for the long haul, you're considerably less likely to have success in whatever your goals may be. Makes sense, no? So I've briefly summarized Mark's tips below in case you feel like being as proactive as I intend to be this winter to maintain that girlish figure.
Do the thing you love. 

K.A. if you don't love it, it's really hard to stay invested.  Pick activities you enjoy that still provide physical benefits (skiing, walks, bootcamp classes, etc). Exercise is only beneficial if you stick with it..

Get a workout buddy (or buddies).
Work out, outside.

While this is hard for those of us in the Northeast, hiking, camping, cross-country skiing, hill sprints are all accessible

outdoor

workout activities. Plus sunlight is key for vitamin D production and sleep cycles!

Incorporate play to make the workouts fun.

As indicated in previous examples, activities with physical benefit play into the "do the things you love" category.  Play with your pets, go mountain biking instead of riding a bike at the gym, play leap frog instead of box jumps, play basketball instead of doing sprints and calf workouts…you get the picture.

Make your workouts meaningful and purpose-driven.

If it feels meaningless, the likelihood of a positive result goes down. Clean the house, build something with your hands, commute on bike or foot, etc.

Find flow.

Get in the zone. Eliminate distractions. Pay attention to your workout/actions (trail running). Lose yourself in the task.  Time will fly and you'll feel accomplished.

Savor how exercise makes you feel.

Getting going is always hard when you know it's going to hurt afterward. Remembering the accomplishment and euphoria from a good workout often helps me get back in the "let's do this" zone.

Release your attachment to the outcome.

I struggle with this one. The outcome is the purpose right? Not always. Try to enjoy the journey. Enjoy the workout/ activities and worry less about what the end result is, as long as you're healthier and a more well-rounded person.

Decide if you're training or just exercising.

What are your goals? Overall health or are you trying to achieve a certain level or physical fitness in order to compete in an event (marathon, obstacle race, etc.)?  Make sure your goals align with your overall purpose for working out.

Try something new.

Hello! Seems so obvious but how often do we start working out and then get stuck in a rut? Switch it up! Try a new activity, change up your workouts, add a little hitch to your giddy-up. You'll thank me, and Mark, later.
And if all of that doesn't help, just think, as long as you get started, you'll still have a better day than this little guy…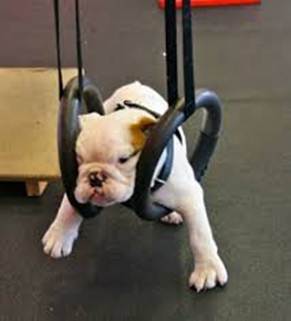 Image source confessionsofagymbunny.com
Posted by Danielle