The Kardashi-empire Continues
There is one family in America that doesn't need any more publicity. Which is why I'm even hesitant to be writing this blog post, because it will only contribute to the Kardashi-epidemic that is going on in society as it is. Especially after Bruce Jenner's tell-all, does the world need to be updated about one more Kardashian-related endeavor?
But the fam's newest venture is worth noting, because it takes the cake in narcissism. Kim is not only a spokesperson, reality TV star, clothing designer, porn star, model, app developer and mom, but now an author! I know this may come as a *shocker* but this book doesn't really have a plot line, or many words for that matter.
Her newest venture is an appropriately-titled book called Selfish. Yep, it's a compilation of Kim's favorite selfies over the past 10 years, that she wants to "share" with her fans. Which begs the question, what selfie isn't Kim's favorite? As if her Instagram feed wasn't enough, this is a published book that people will actually pay money for to see Kim's face…as if her face wasn't everywhere as it is.
She offers up a few exclusive selfies featured in Selfish on her Instagram.
Vintage Kardashian. Kourt's glow tells me this is before her kids were born and Kim's less than stellar contouring probably means this is before Kanye dictated her every move.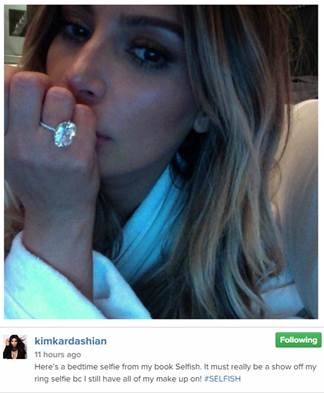 Shameless engagement ring selfie.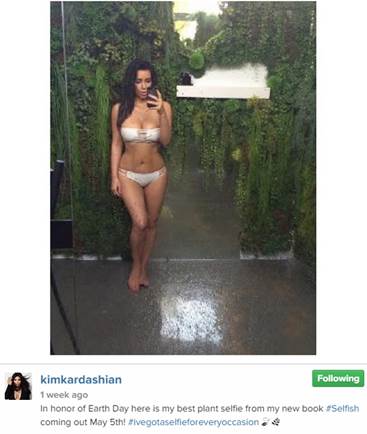 This "in honor of Earth Day" pic really expresses her love for nature.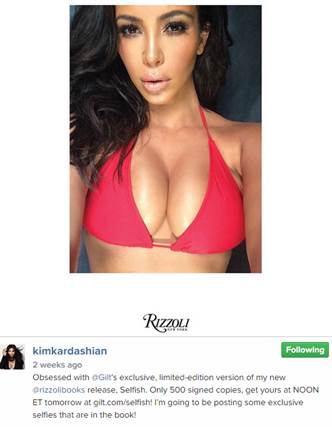 Modesty is Kim's best quality.
All Images Source Instagram
If you haven't gotten your fix of Kim Kardashian yet and have $12.46 to spare, her book is available on Amazon. As for me, the selfies of her on Instagram/Twitter/Magazines/EVERYWHERE are good enough.
Posted by Carli