The New Cronut
Image source Joshua Garcia
I have a confession to make. I have never eaten a cronut.
Back in 2013 when the genius sweet treat went viral, it was totally the cool thing to go stand in line at Dominique Ansel's bakery in NYC and then of course, take a photo and let your social media circle know all about it. While I'm sure it tasted scrumptious, I'm not one to wait hours for the love child of a donut and croissant.
What I will wait hours for is this season's new food craze: the Milky Bun.
What's a Milky Bun, you ask? Oh, just the most delicious sounding desert of all time. It's a warm glazed donut stuffed with homemade ice cream. (!!!!)
Andy Nguyen and Scott Nghiem, founders of Afters Ice Cream, are the creators of this clever concoction. After opening their ice cream shop in 2013, the longtime friends realized they needed to step it up a notch. Welcome the Milky Bun.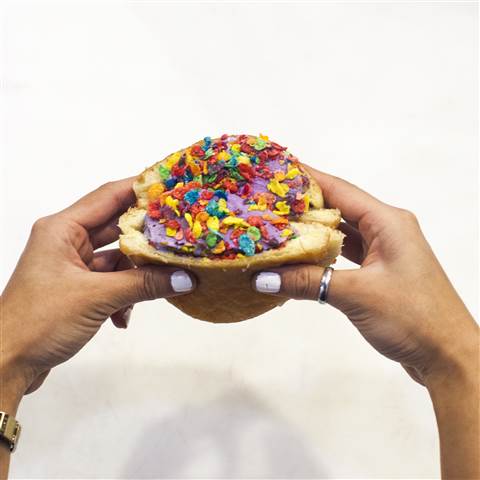 Image source Joshua Garcia
Unfortunately for us east coasters, if you're looking to take a bite of heaven, you'll have to travel to Fountain Valley in California to get your hands on these buns. And while imitators have popped up, there's nothing better than the real deal. At least that's what I've heard.
Posted by Robbin