The "Perfect" Body
As I was reading Time.com the other day, I couldn't help but notice that the #1 most read article on the site was "How Men And Women Differ When Drawing Up The 'Perfect Body" (#2 was the Russia/Ukraine crisis and #4 was the sinking of the Korean cruise ship). Anyhow, the results weren't groundbreaking; what I find to be more alarming is that apparently we are more concerned with body perfection than the massive crisis and bloodshed going on overseas. Basically what was found via Bluebella lingerie shop's poll of 500 men and 500 women was that apparently no matter the sex, we all want to look like supermodels. Who knew?!
The women's version of a "perfect" body had less curves than the men's ideal (though both are still super skinny), while the men's version had bigger boobs. Apparently guys like Kim Kardashian's chest (her famous assets didn't make the cut). The women polled indicated that they would like Gwyneth Paltrow's stomach, while men said they'd be on board with Michelle Keegan's. When it came to the perfect male body according to women, it was reported that we want Harry Styles' mop of hair and Jamie Dornan's face (I don't even know who that is…). Men on the other hand want to look like David Beckham (that I understand) and have Hugh Jackman's biceps.
Just in time for upcoming beach season, you can check out the ideal mash-ups here: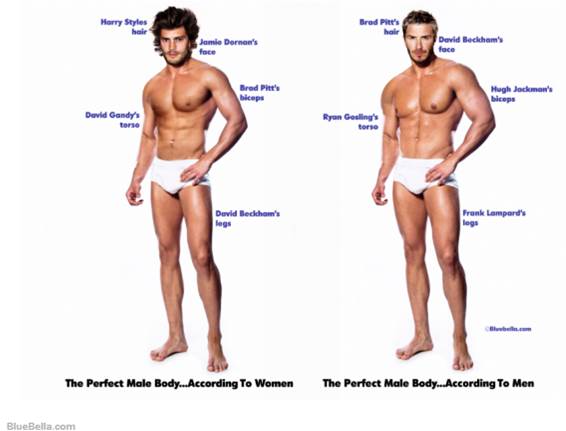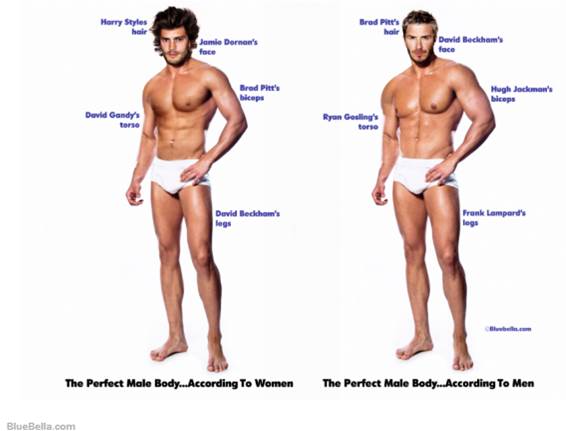 Images source Time.com
In college I took a course on "Beauty, Body Image and Identity." While my Women's Studies professor would definitely not be pleased, I think the most shocking discovery of all is that this was what TIME decided to feature as news!
Posted by Laura