The Pocket Dial
Image Source J.Crew
'Tis the season for holiday shopping! While I DO spend most of my free time spending my hard earned dollars, sometimes holiday shopping can be a real drag. You know what I mean….the constant second guessing if someone will like the gift you gave, fighting the crowds and over analyzing every gift on your list.
But one gift I'm going to have no trouble buying this year is created by everyone's favorite jokester – Jimmy Fallon. For the techy guy who loves looking dapper, Jimmy created the "The Pocket Dial" which is now being sold at one of my favorite stores, J.Crew. For those fashionable guys who need to be connected at all times, the Pocket Dial features a chic leather phone case with attached silk pocket square – so your unsightly iPhone isn't sticking out the top of your breast pocket.

According to J.Crew, everyone knows that "carrying your phone in your pants is so 2014." Not to mention, all of the proceeds from The Pocket Dial will benefit the David Sheldrick Wildlife Trust, a charity that protects elephants from ivory poaching. So a fashionable tech-item that gives back? Let's just say, I know what I'm buying all of the guys in my life this year!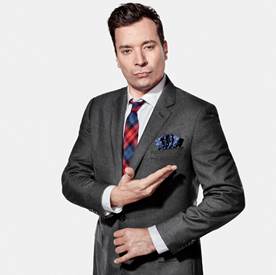 Image Source J.Crew
Posted by Carli