The Republic Still Stands
Kim Kardashian got married (again) to rap superstar Kanye West last week  in Florence, Italy and it was every bit as lavish as you'd expect. There's no denying the wedding was a beautiful affair filled with lots of love, but what's a Kardashian story good for without some family drama and sassy reactions from the press?
Noticeably absent from the festivities were Kim's brother Rob and half-brother Brody Jenner, for different reasons. Rob flew all the way to Italy for the wedding, but promptly flew home just a day before the ceremony. Why? Because he was feeling fat. No, really, he reportedly flew from Italy to LA because he is embarrassed about his weight and didn't want to be seen in any pictures. You can't help but feel a little sad for him. As for Brody, he purposefully declined his invitation because his girlfriend wasn't invited. Not feeling sad about that, though.
Between the family drama, the Parisian bachelorette party and Italian nuptials, the media and general public had a field day talking about the wedding. With as much news coverage as the British Royal Wedding, America's sweethearts (ugh) were stealing headlines right and left. The New York Post published a short but epic blurb about the wedding: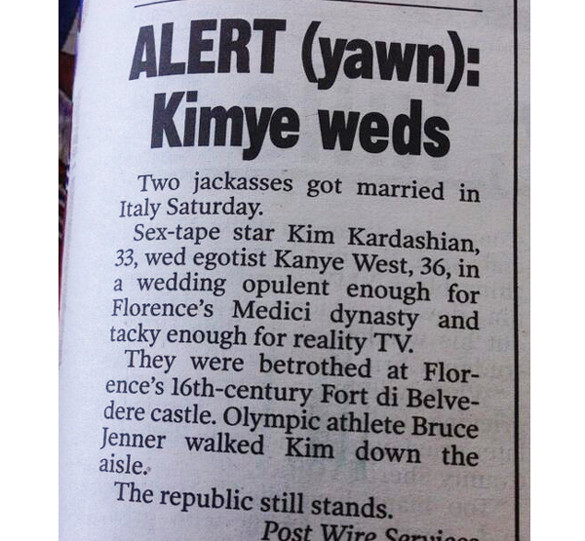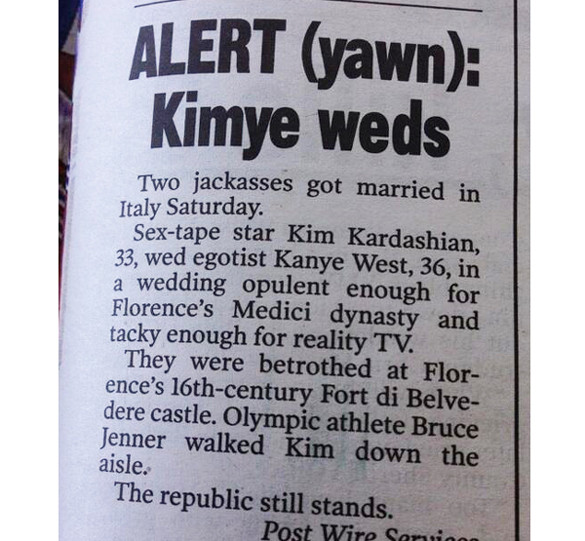 Image source NYPost.com
Post wedding, E! News released the first look inside the wedding and shared their first pictures as a married couple, and they were stunning. While the internet collectively drooled over Kim's dress, Buzzfeed went ahead and shared the "only Kim and Kanye wedding photo that you need to see":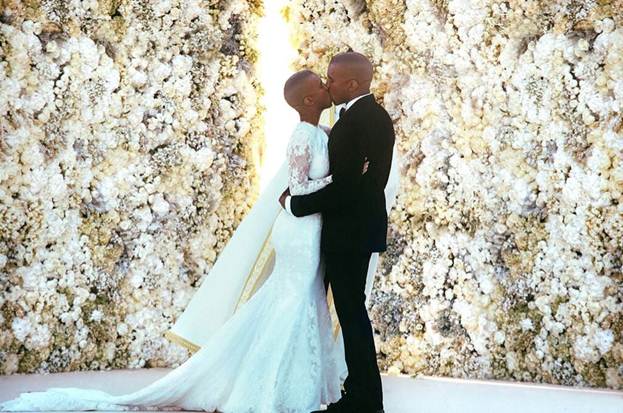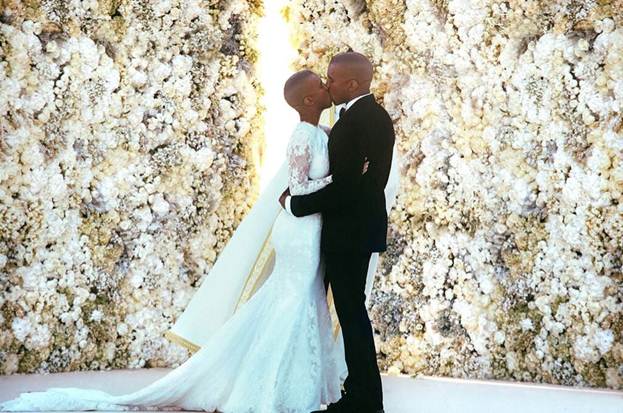 Image source BuzzFeed.com
Lastly, in a triumphant act of pseudo congratulations and self-promotion, which may I add, is not far off from the couple's everyday life, New York Sports Clubs took out an ad with a word of advice for Mr. West, as reported by Mashable:
Image source Twitter.com
In what became an odd juxtaposition of pop culture, the public's love/hate with Kimye and sarcastic journalists in every medium, I'd say the American royal wedding was a success. Cheers to 73 days and beyond.
Posted by Tracy