The Rise of the Robots
Image source FoxNews.com
Watching 'The Jetsons' as an adult, I have a new appreciation (and envy) for the family's robot maid, Rosie. How nice would it be to have a robot butler to take care of your every whim? It may be a few years until robot butlers are in American homes, but they're already making their debut at hotels and on cruise ships.
Automation is a logical solution for meeting expectations of our fast-paced consumer culture that increasingly demands efficiency, consistency and an expeditious experience. But how do you automate hospitality, an industry that, at its best, is defined by tailored service, personal connection and attention to detail?
In my opinion, robots can actually improve guest experience in a lot of ways. Service is more reliably consistent. You can upload nearly endless data such as guest schedules, preferences or multiple languages so they can easily interact with international travelers. They can also be assigned to handle staffers' more mundane, repetitive tasks and free up their time to focus on more important goals.
Hilton Hotel's robot concierge, Connie, for example, sits in the lobby and is programmed with answers to the most repetitively asked questions, such as directions to the ballroom or when breakfast service ends. Connie has helped the property improve and mitigate customer pain points. Guests don't have to hunt for a free staffer and staff aren't interrupted with repetitive questions, so they can dedicate their full attention to providing the best service possible.
Arrive at your hotel before your room is ready? Most hotels let you check your bags with the front desk but who knows how secure they are while in the back room and out of your site? At Yotel in New York, guests entrust their bags to Yobot, which securely locks luggage away individual cubbies and issues a scannable ticket for later retrieval.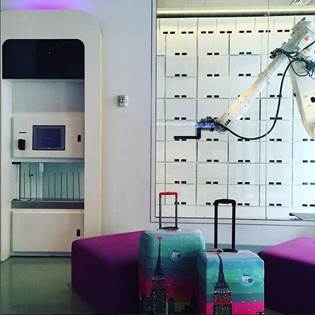 Image source @yotel
Some travelers are seeking robot-staffed properties simply for the novelty. Case in point, Henn-na Hotel in Sasebo, Japan opened earlier this year to rave reviews largely due to the fact that its staff is comprised entirely of robots. Want a velociraptor to check you in upon arrival and summon a droid to cart your bags to your room? Why not? Embrace the whimsy, you're on vacation after all!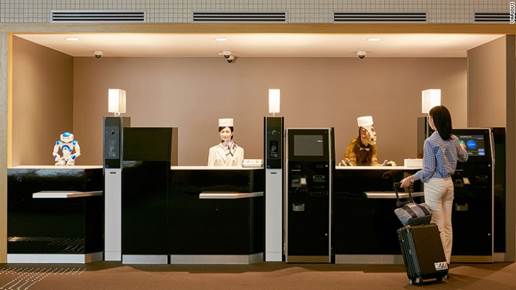 Image source CNN.com
Even cruise ships are getting in on the trend and using automation to streamline the real reason we cruise the high seas – to drink booze unabashedly. Royal Caribbean has introduced bartending bots on several ships. The good news is you don't need to leave a tip when these bots make you a Manhattan. The bad news is their computer stats show exactly how much you've had to drink.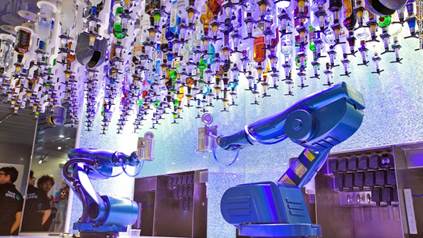 Image source CNN.com
While a future filled with robot servants is exciting, let's remember the cautionary tale told by a certain popular HBO TV series, lest we find ourselves in a real life Westworld scenario and serving our former servants.
Posted by Destiny