The Selfie Has Gone Too Far
Image source distractify.com
I've been a selfie-hater since selfies came into existence and squashed any hope that my generation (millennials) had for proving that we're not ruining America. Every time a picture of someone's face alongside an extended arm appears on my Instagram feed I cringe just thinking of how great they think they look and how narcissistic they actually appear. In fact, the "about me" section on my Instagram reads, "no selfies". Yes, my hatred for selfies is that strong. Don't even get me started on relfies…
Now that you've heard my rant (be happy you didn't get the full version…) you can imagine my horror when I heard that there is now a toaster on the market that prints selfies. I wish I was kidding…
What the what?!
Has anyone thought about how weird this is? YOU'RE EATING YOUR OWN FACE. Wondering how this thing works? Luckily Mashable has broken down the selfie toaster process for us all. All you have to do is send a pic of your face to some dude in Vermont and he'll transfer it onto a metal sheet that will be inserted into the toaster. And it's only $75! Oh em gee!
This toaster has been blowing up the media and has been praised as "the greatest thing since sliced bread". Puh-lease, the only thing this toaster is good for is disproving the Virgin Mary's face on a grilled cheese. Bet the winner of this auction feels real dumb right about now…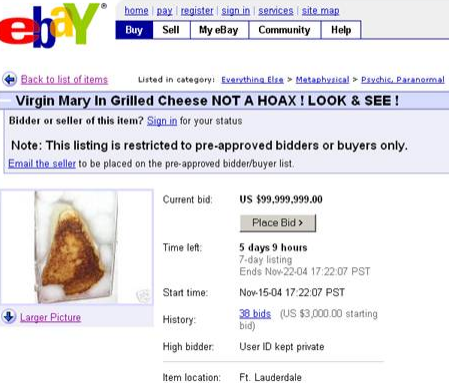 Image source NBCNews.com
All I'm saying is this fad needs to get burnt real quick. Pun intended. Rant over.
Posted by Christina