Get Your Hands on the Three Cs This Fall: Chains, Cargos and Cream (Well, Neutrals)
Most of you may not know this, but I wear a couple of professional hats. PR gal by day and co-owner of women's clothing store, First Date, by weekends and free time! The store is temporarily closed to make a move to a new space currently under construction on Main Street (same town — Andover, MA). I recently spent 3 jam-packed days meeting with designers and picking out all new fall items for the store's August re-opening. Some of the trends we've seen lately seem like they're here to stay (I still saw a lot of ripped jeans, sequins, infinity scarves, skinny denim jeans and leather motorcycle jackets) but I noticed some new(er) consistencies between a lot of the designers' looks for Fall 2010:
Zipper accents have been quite popular and the trend seems to continue into fall but I couldn't believe how many lines were using tiny metal chains as the "new" decorative accent. I ordered a sexy lavender spaghetti-strap dress with chain details covering the entire bust (almost looks like gold chainmail) and a cream top for going out that had gunmetal chains hanging in the front. I love the look because you don't really need any accessories (they'll compete with the chains!) but your outfit is still anything but simple.
It was only a matter of time before designers starting expanding their skinny offerings into the causal cargo look. A bunch of celebs started sporting these pants this spring and the trend will continue into fall. You can always tell it'll be a trend when one designer, like J Brand, introduces a look and then everyone else follows. Pair them with sexy heels, a cute sweater and necklace and there's your Friday night outfit. For the Boston babes, I have yet to see anyone wearing these around town so, if you get on it, you'll own the look (for now).
The Color Cream & Other Subdued Shades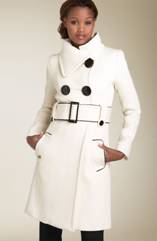 I placed an order for a pretty blush-colored wool coat that features black buttons (they totally stand-out against the extra pale shade) and a cream belted coat with a funnel neck and extra large buttons. I also scooped up tons of light grey and taupe sweaters and tanks. Traditionally, you may think that light colors are meant for spring and summer but I recommend 'em (I bought a thick wool nude-colored long sweater for the store) since those hues are a great alternative to basic black and dark grey.
More to come…
Posted by Brianne