The Worst App Ever, Yo!
Image source BostInno.com
Yo. That's the name and sole feature of a new app that's gaining popularity in the App Store and Silicon Valley. Up until recently I had no idea that "Yo" was a thing, let alone an app that has actually gained traction.
Before I get out of bed every morning, I read through Bostinno's "In The Know" newsletter, a daily update of Boston's weather, big news and things to do. Last week, I see above
I don't even bother to click on the link to read about the new app because I really hate stupid viral apps and not even a kitten in a beanie can get me interested. And then, this happened: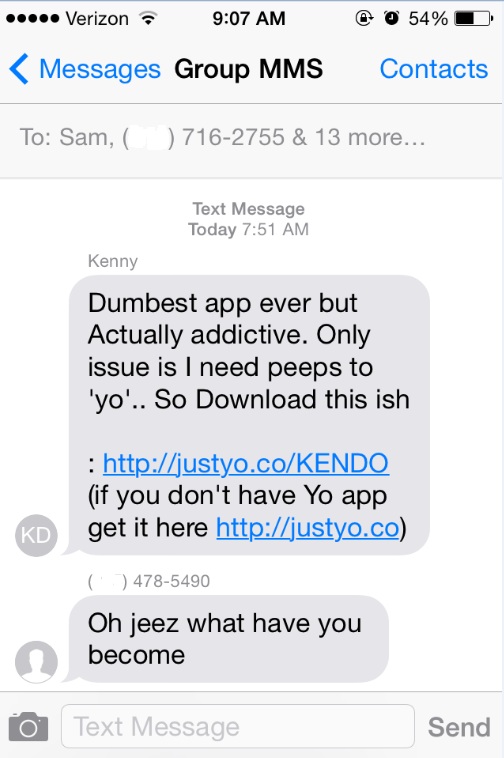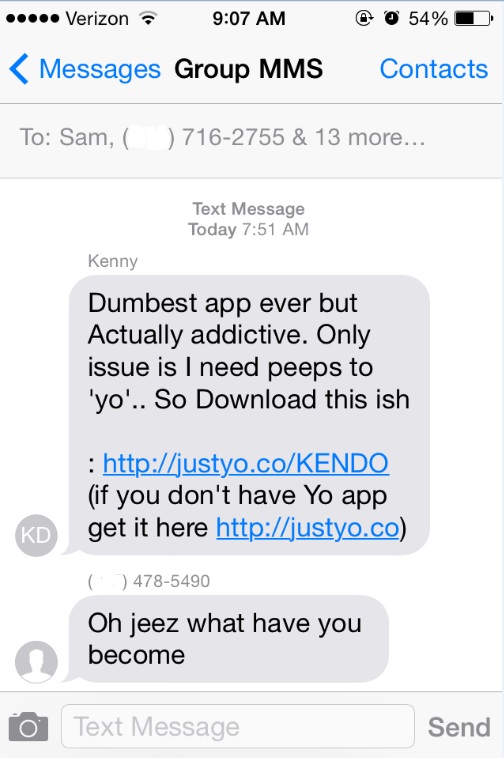 Not only was I included in a 15 person group text with people I don't know, but the text was about downloading the Yo app. After the group text torture wore off, I decided to revisit the Bostinno newsletter to check Yo out. This is what I learned:
The only thing the app allows you to do is send the word 'Yo' to your friends
It only took eight hours to build the three month old app and the inventor has since quit his job, moved from Israel to San Francisco, is opening an office and hiring staff to Yo full time
He's raised $1 million from investors (WHAAAA? The Sharks on Shark Tank would've never allowed this to happen)
The inventor honestly believes Yo is the way of the future and will change the way we communicate
Yo is looking to partner with brands, like Starbucks for instance, where your Barista would send you a Yo when your order is ready (please, no)
So now that I've explored Yo, I know that I never want to download it. And I also never want to be in a 15 person group text again. Yo.
Posted by Tracy