This Can't Be Real
Americans empty their pockets left and right to ensure that their beloved fuzzy family members are keeping up with the latest trends and looking spiffier than the creepy breeds in the National Dog Show (I'm talking to you, Afghan Hound). From nail polish for dogs (I'm not kidding) to dog treadmills (I kind of get this one for the fatties out there) dog-owners will do the weirdest things to spoil their pups, but this new trend is just too much.
m.blog readers, brace yourselves, Rear Gear! has hit the market. What is Rear Gear! you ask? According to its website, "Rear Gear! Is a collection of rear enhancing products developed specifically with your favorite furry friend in mind." Ummmmm rear enhancing? Since when is hanging an ornament from your dog's butt enhancing it? And why would you need to enhance your pet's rear in the first place?! Clearly you don't have your pet in mind if you're going to force it to wear a cupcake on its ass.
If you're looking for an easy laugh check out these photos from Rear Gear!'s "Happy Customers" page: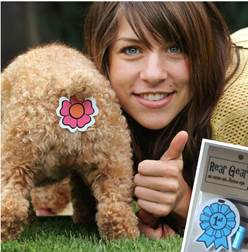 The only happy one is this picture is the weirdo with her thumb propped inches away from her dog's flowery rump.
Imagine if humans wore dice on their ass!? Sounds like an invitation to get lucky if you ask me…
Anyone else as creeped out about this product as I am? And what if your pup is gassy? Poor guy can't release! Too much? Ok, I'll stop, but I'll leave you on this thought, before you jump on the latest pup "trend" ask yourself, "How would you like to walk around with a cupcake plastered on your ass?"  Wouldn't like it now would ya? Let's just say if this product were presented on Shark Tank it would not survive more than a minute. And for that reason I'm out.
All Images source Rear Gear!
Posted by Christina