This Is Going to Get Gross — You've Been Warned
Image source RooseveltIslander.com
I am a completely inconsistent germaphobe. I'll share drinks, eat things off the floor and even sometimes *GASP* kiss relative strangers on dance floors. But, when it comes to touching the overhead bar on the T, my upchuck reflex shifts into high gear. Other people touch that!!! Other people are gross.
The T is probably a very relatable instance, but sometimes my fear of germy grossness comes up at bizarre times. For instance, I look at my gloves and think that maybe that solace I get from being able to touch anything I want because the gloves act as my own personal offensive line against germs is actually false. Who's to say that the inside of my gloves aren't grosser than the door handle on a public bathroom? You can't even wash leather gloves.
So you can imagine my delight when I discovered what I think could be a gamechanger: underwear for your hands (note: these are apparently old news – there are articles on these from 2009 – but they are news to me!). 'Cause, why not? We wear underwear (most of us do), undershirts, socks, Under Armour, etc. But our hands go bare? This is clearly an oversight by all of us. It's time to act.
Handerpants' website (yes, they're really called Handerpants) lists all sorts of ways to use them, but we all know why I asked for a pair of these suckers from Santa: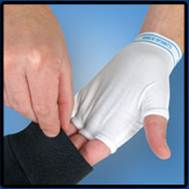 Image source Handerpants.com
But, if you aren't like me and grossed out by your own gloves, Handerpants has several other uses.
Sanitary handshakes: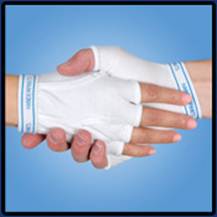 Image source Handerpants.com
Cruising: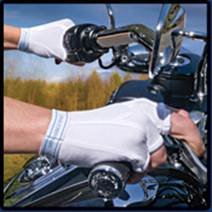 Image source Handerpants.com
Clearly, the possibilities are endless and Handerpants have cornered a growth industry. We all know what's next: a Super Bowl commercial.
[youtube=http://www.youtube.com/watch?v=KQChTM-hqCQ&w=640&h=360]
Posted by Ben