This Is Not Fine
Image source The Verge
One of the best memes ever created is the "This is fine" dog. Most everyone has used it or seen it at some point; the picture depicts a cartoon brown dog sitting at his kitchen table wearing a bowler hat while flames engulf the room.
The meme comes from a comic created by artist K.C. Green in 2013. Ever since it gained popularity, the meme has been a funny way of laughing at stuff that might otherwise be overwhelming. Things might be bad but the dog is putting a smile on and doing his best to ignore things. Yep, everyone has been there at one point or another.
Well, recently Green and the dog finally decided that this isn't so fine anymore. As a matter of fact, it's not fine at all.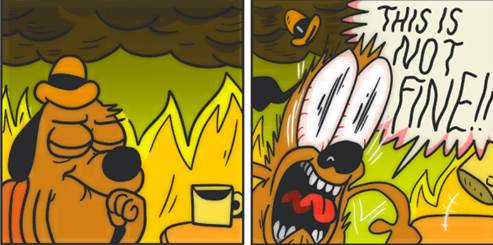 Image source The Nib
You can read the whole comic here but it's essentially Green's way of saying, it's time to stop ignoring the problem and hoping it will go away. It's a poignant and funny response to some of the craziness that has gone on in the world of late.
Posted by Patrick.