This Mom Knows How To Make Her Daughter Feel Like A Princess
Fun fact about me: my name, Ameara, means princess. My father is from Lebanon, so my parents chose to name me something traditionally Arabic, although they did Americanize the spelling to make first day of school roll calls a bit less cringe-worthy. I pride myself on living up to my moniker, and that resulted in a lifelong obsession with Disney World, and of course, the princesses.
I thought my adoration for Disney was intense but then I came across little miss Lane Rouch. This very lucky three year old has one hell of a mommy! Jennifer Rouch spends her free time hand-sewing her daughter incredibly realistic costumes to wear on their frequent trips to the Disney parks.
Lane (who you can follow on Instagram) is just about the cutest thing to go viral on the Internet since #AlexfromTarget. If you don't already know what I am talking about, check out some of my favorite character recreations below!
Lane, who makes a rather convincing Princess Aurora, hanging out with her pals Rapunzel and Cinderella.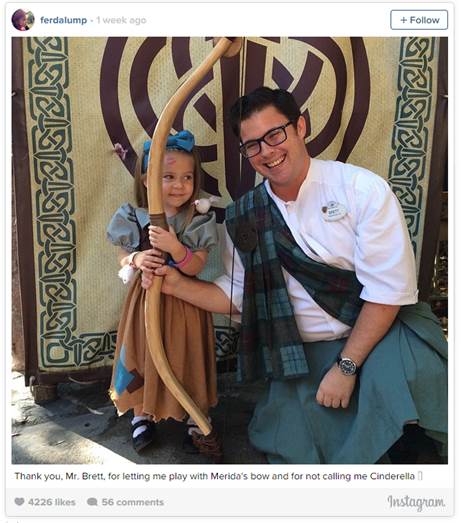 Pint-sized Lane (disguised as the ever-empowered Princess Merida) gets all kinds of special opportunities thanks to her adorable outfits!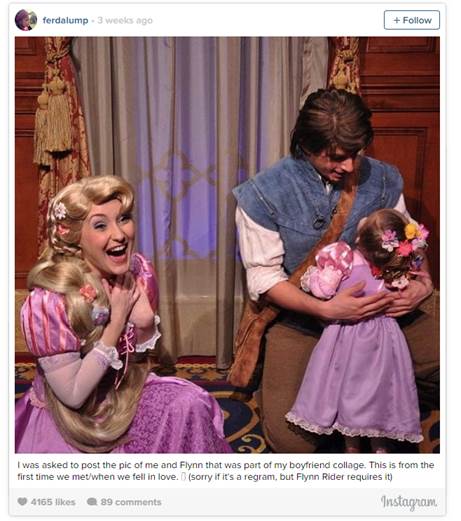 Her costume is so good that it has Flynn Rider convinced she's his Rapunzel.
I could go on and on, as her mom has posted hundreds of pictures of her daughter interacting with different characters in her precious costumes. They are all just TOO. CUTE. Hmmm…I wonder if she can make them in adult sizes?
Images source Instagram
Posted by Ameara