"Tindog": Tinder for Dog Lovers
Image source Jezebel
By now, I'm pretty sure everybody has deleted Tinder. Or at least neglected the app completely because all of the guys left on there are either way too desperate or way too creepy. But there may be hope for us #singleladies! There is a new app that's similar to Tinder but way better. I introduce to you Tindog: a canine matchmaking service that connects dog lovers.
Like Tinder, the free app suggests nearby matches and allows users to swipe left for rejects or right for dog hotties. If you both choose each other, a match is formed and you can chat and arrange a pet play-date. Founder and CEO Julien Muller said that "dogs bring so much joy and love, that they really have the power to connect us. That's why we wanted to make it easy for dog lovers to meet new people around them who feel the same way."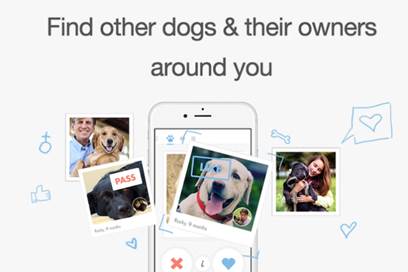 Image source Jezebel
Marlo, this means that you can use Tindog and Lulu to help find your rich, dog-loving, future husband! And you wouldn't mind if we used Lu too, right? I say we get our best selfie with Lulu ready, download Tindog, and give a whole new meaning to finding puppy love.
Posted by Megan