Your Trip Itinerary for Havana,Cuba
View from Hotel Parque Central
Last month, I went on a quick trip to Havana, Cuba to meet up with my family. It was our first time there and boy, was it a memorable one. Although many still believe that there are a lot of travel restrictions that would prevent Americans from visiting, it was actually pretty simple to get a visa and book a flight. Trust me, you need to go. Especially now when it's still authentic, before new developments pop up to cater to the impending spike in tourism. So, for those who choose to take my advice, you're going to love me for what's to follow: a complete itinerary that we worked on for weeks prior to our trip, and it left us feeling extremely knowledgeable, entertained and satisfied. Enjoy!
DAY ONE
Afternoon
Arrival in Havana, Cuba.
Check-in at the Hotel Parque Central, Trip Advisor's selection as the best hotel in Havana. Located on the corner of Central Park and along Prado Boulevard, the hotel is just steps from the Capitol building, the Great Theatre and the famous Obispo Street.
Evening
Cocktails on the rooftop of La Guarida paladar, famous not only for its delectable dining, but also as the location for the film "Strawberry and Chocolate." It is housed on the third floor of a large, old town house carrying the charming ambience of the early 1900s.
Head over to Cabaret Tropicana for an unforgettable show under a beautiful night sky. The tropical and historic venue serves as a unique place to enjoy Cuban music and folklore in all its glory.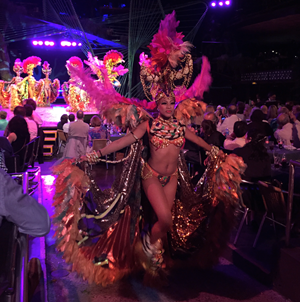 Cabaret Tropicana dancer
DAY TWO
Morning
Breakfast at the hotel (included with room fee).
Walking tour of the Old City. Wander through the Plaza de Armas, a scenic tree-lined plaza formerly at the center of influence in Cuba. It is surrounded by many of the most historic structures in Havana as well as important monuments.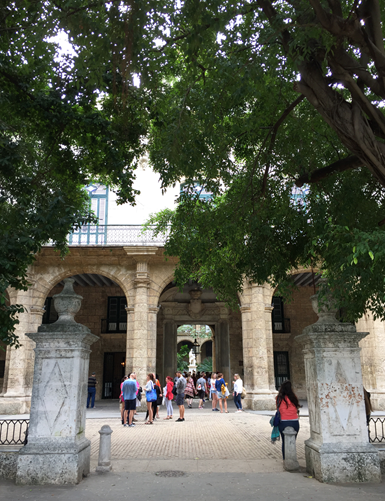 Plaza de Armas
Afternoon
Lunch at Doña Eutimia paladar. Famous for its ropa vieja and frozen mojitos, this cozy paladar made Newsweek magazine's top 100 restaurants in the world in 2012. The restaurant's location in the beautiful cathedral square is unbeatable.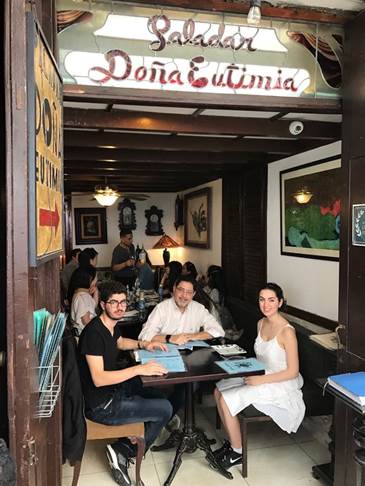 Doña Eutimia paladar
Recharge with an espresso at Café O'Reilly (at your own risk, this stuff kicks). See the Plaza de San Francisco, a cobbled plaza surrounded by buildings dating from the 18th century, dominated by the baroque Iglesia and Convento de San Francisco dating from 1719. Visit the Plaza Vieja, surrounded by sumptuous houses of the Havana aristocracy from the 18th and 19th centuries. Visit Plaza de la Catedral and the Catedral de San Cristóbal de La Habana.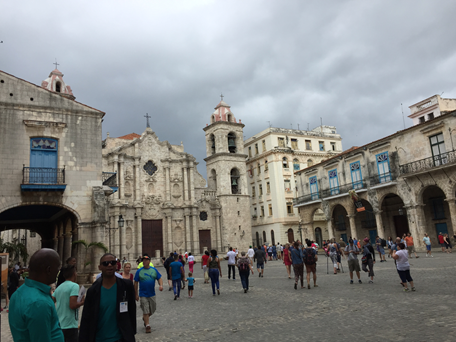 Plaza de la Catedral
Evening
Early dinner at Rio Mar, located in the luxurious Miaramar neighborhood, it has a whole terrace overlooking the where the Almendares river flows into the sea. Highly recommend the ceviche.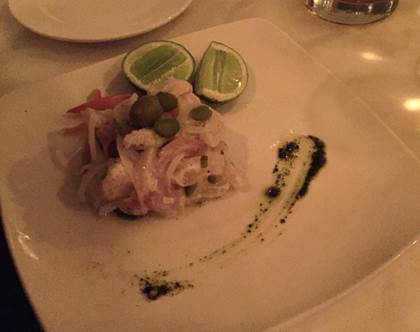 Rio Mar's ceviche
Listen to the Buena Vista Social Club at Café Taberna, a very lively restaurant on the corner of Plaza Vieja. I personally recommend buying tickets through your hotel's concierge and going early to snag seats near the stage. This can be skipped if you're enjoying your dinner by the water at Rio Mar, but I highly recommend it for lovers of live music and dancing.
DAY THREE
Morning
Breakfast at the hotel.
Tour of Partagas Cigar Factory, the most famous cigar factory in Cuba. It is a weathered but gorgeous landmark with distinctive architecture that remains much as it was in the mid-19th century. While cameras are not easily allowed inside the factory, the tour experience is certainly one to remember as the rich smell of some of the world's finest tobaccos accompanies you along a 45 minute journey. The equally iconic cigar store in the factory should not be missed.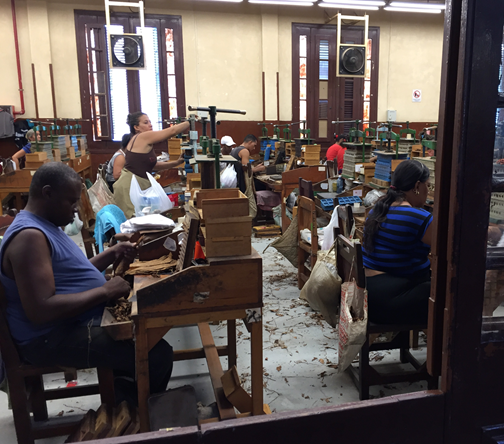 Partagas Cigar Factory
Tour of Museo del Ron Havana Club, which is dedicated to Havana Club rum, one of the most famous rum brands in Cuba. There is plenty of information to be found about rum production in general, from the harvesting and milling of sugar cane to distilling and aging. The museum features copper distillation machinery, casks, an authentic and award-wining mule-drawn mill model and of course, a tasting room.
The Havana Club bar offers a selection of Cuban cocktails accompanied by some fine local music; souvenirs and excellent rum can be purchased from the Foundation's shop.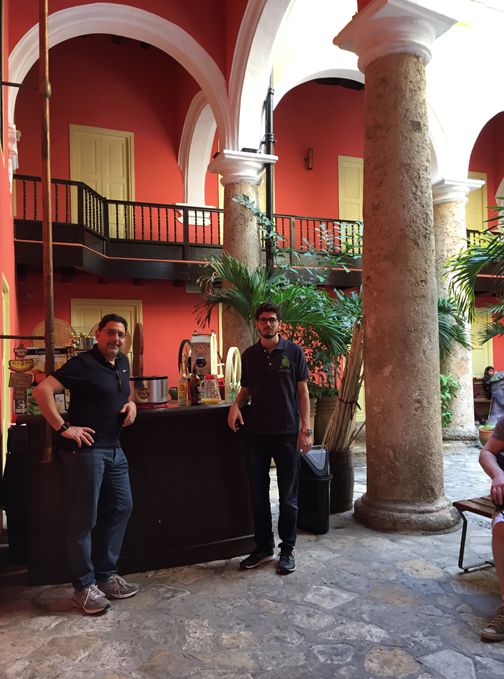 Drinks at the rum museum while we wait for our tour to  begin
Afternoon
Seaside lunch at El Litoral. Entering the spacious and well-decorated restaurant, you quickly understand why it took the owners 18 months to finish the renovations to this beautiful seaside home. It now serves as one of the city's hippest and most modern restaurants.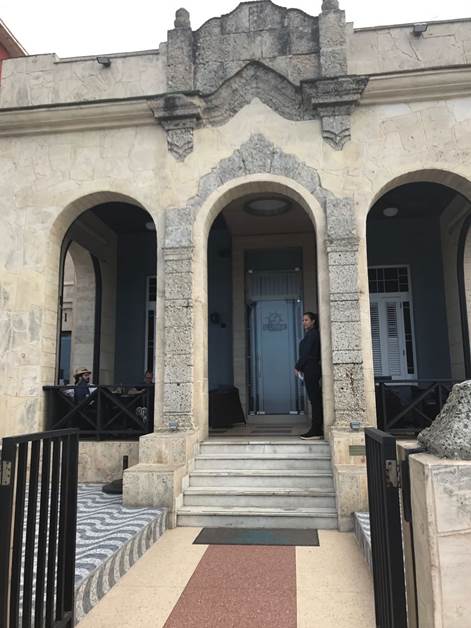 El Litoral
Evening
Dinner at Paladar San Cristobal – where the Obamas and Beyoncé dined during their separate visits to Cuba. Located in the heart of Central Havana, this paladar has a reputation of excellence in both atmosphere and local cuisine. Enjoy great food while a local server takes you back to the 1940s and 50s.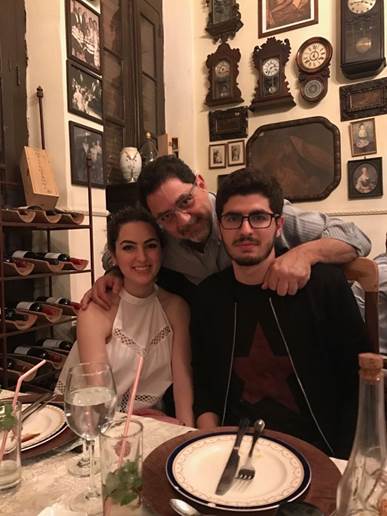 Paladar San Cristobal
Visit Hotel Nacional de Cuba for a nightcap in the outdoor gardens. In 1930, the hotel was built and operated by U.S. owners as a hotel for U.S. tourists; no Cubans were allowed to stay here. In addition to hosting a long line of famous guests, the hotel has also played witness to some of the most important events in Cuba's history. A-list celebrities, world leaders and prominent heads of mafia have all been known to stay here. The hotel's former casino served as the setting for the Havana Conference, a meeting between the U.S. and Sicilian Mafia in 1946!
DAY FOUR
Day trip to Viñales Valley. Considered by many to be the most beautiful place in Cuba, the Viñales Valley National Monument holds stunning landscapes. The area is also famous for being the premier tobacco growing area in the world. The 3-hour ride is well worth it. Visit a world-renowned tobacco farm, eat lunch on an organic farm overlooking the valley and explore the quaint country town.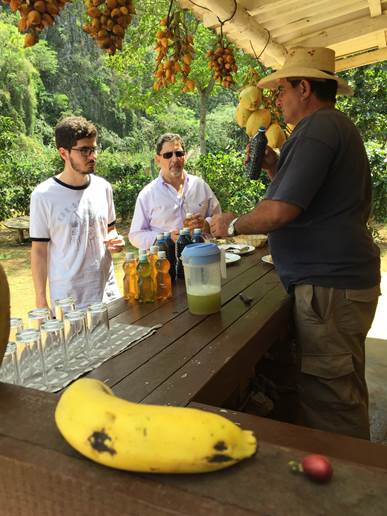 Tasting fresh fruit in Viñales Valley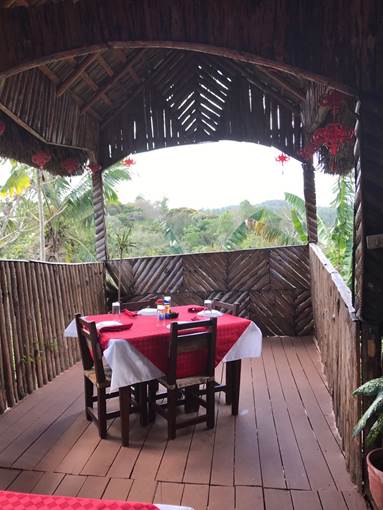 Lunch in a treehouse at the entrance of Viñales Valley
Evening
Dinner at El Cocinero. This lovely restaurant is housed in a former factory. Home to Havana's hip, you might think you are in Soho or Madrid. Following dinner walk next door for live music, art and dancing at La Fabrica de Arte Cubano. Rock star X Alfonso has turned this spot into a meeting spot for a young, eclectic crowd of Cubans and foreigners.
DAY FIVE
Late Morning Check-out and departure for airport. Make sure to drive by Casa Fuster, a neighborhood where the homes and the gates are covered entirely by mosaic tile!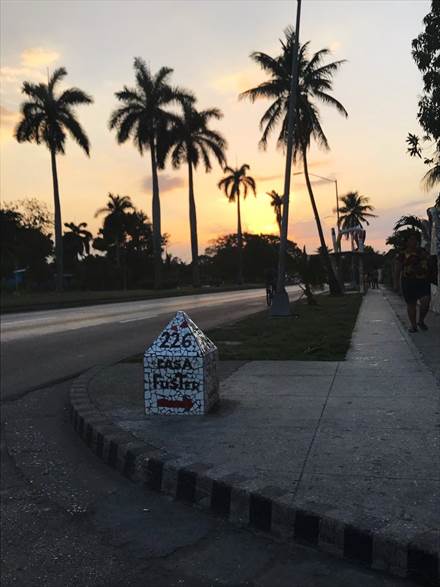 Casa Fuster
Posted by Zein