Troubled Waters
Beach-Christie lounged in the oval office. Source: Twitter
New Jersey Governor Chris Christie and I both had the same idea over the July 4th holiday weekend. Taking advantage of the warm weather and a few days off from work, I packed up a towel and a new book and booked it to the North Shore; Governor Christie grabbed a chair and some SPF and headed straight to the ocean. I had a wonderful day, and I suspect he did too. The only issue? At the end of the day, he was a meme. As everyone pretty much knows by now, two days before Christie kicked back and relaxed, he closed state beaches to the public following a government shutdown. So when pictures of him enjoying his empty expanse of shoreline quickly surfaced, photoshoppers couldn't help themselves.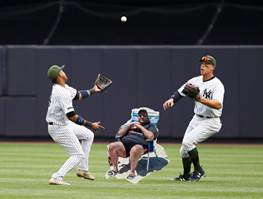 He made his way to professional sporting events.
Source: Twitter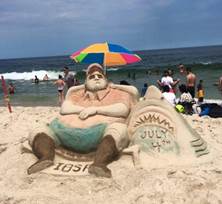 He even ended up on other beaches (in sandcastle form).
Source: NBC
Honestly, after braving the crowds myself at Wingaersheek, I can certainly see the appeal of trying to snap up a private stretch of land. I just might be a little more subtle about it if and when I do…
By Addie