A Valentine's Day Gift for Your Love Bug!
Photo: Flicker
Having trouble finding the perfect gift to show your significant other how much you L-O-V-E them this Valentine's Day? Forget about the Hallmark cards and candy, here's a creative idea that gives a whole new meaning to the pet name, Love Bug.  Yup, the Bronx Zoo is offering Valentine's Day revelers the chance to name a Madagascar Hissing Cockroach after their beloved.
What!? Ewe, gross! Aren't New Yorkers typically doing the Mexican Hat Dance to try and kill these buggers when found scampering across their apartment floor? (I digress…)
Anyhow, if this is something that appeals to you, congratulations, the Name-A-Roach program will take 10 of your hard-earned dollars in return for a certificate with your roach's name emailed to your person of choice. If you're worried that this ingenious Valentine's Day gift will somehow sell out, rest easy: there are "thousands" of roaches at the zoo so there certainly won't be any shortage!
The Name-A-Roach program has been around since 2011, according to the AP, and is a nice way to raise money for the Wildlife Conservation Society, which works to protect wildlife and their habitats. If you really feel a need to go the extra mile and send the message home this Valentine's Day then a $35 donation gets you a digital certificate and a Madagascar Hissing Cockroach plush stuffed animal (to have and to hold forever).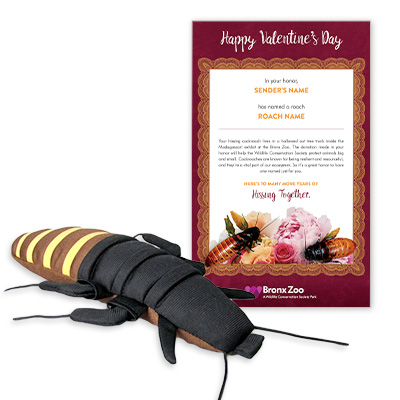 Photo: Bronx Zoo
Or a $50 donation will get you all that plus a box of chocolates!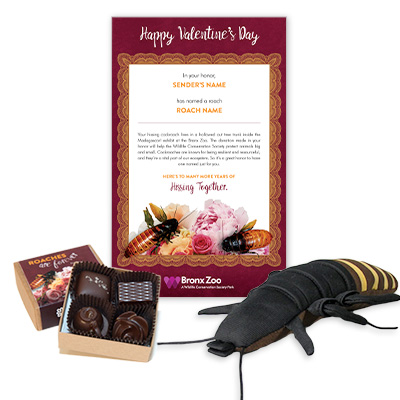 Photo: Bronx Zoo
Whether the gesture is spicy or sweet this Valentine's Day, be original and think outside the box!
Posted by Rebecca