The Waggiest Place on Earth
Source Disney Parks
I've always been a firm believer that dogs are people, too. Most of you probably agree and, like me, have experienced a mini panic attack on a vacation away from them. Worrying if a pet is getting enough love back at home is a definite way to ruin some much needed time off, which is why Disney World's latest effort to maintain its status as "The Happiest Place on Earth" is very cute (and helpful!).
Four hotels at Walt Disney World Resort are now taking reservations for human guests and their four-legged companions. This includes Disney's Yacht Club Resort, Port Orleans Riverside Resort, Art of Animation Resort, and Cabins at Fort Wilderness Resort and Campground, allowing up to two dogs per room so long as the dogs are trained, leashed, and have received proper medical care. With fees ranging from $50 to $75 per pet, per night, visitors who need a little dog therapy can experience the Magic Kingdom with their pets, making the experience even more relaxing and enjoyable.
According to the Walt Disney World official website, dogs will experience the royal treatment. A doggie day care is available for anyone planning to spend a full day in the parks, and each hotel includes the "Pluto's Welcome" amenity that provides dogs and their owners with a collection of dog-friendly items. The package includes a mat, bowls, pet ID tags, disposable plastic bags, puppy pads, dog walking maps, and a Pluto "Do Not Disturb" tag that lets hotel staff know a pup is getting its beauty sleep on.
The only issue I have with this is the "No Dogs In Pool" policy that will be enforced throughout the resorts. I was hoping to see something like this:
Source Pet Friendly Travel US
Many Twitter users have already voiced their opinions, either elated by the news or concerned for their own allergy issues.

Source Twitter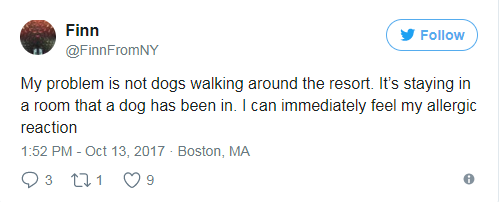 Source Twitter
While everyone has their own views on the policy, it is nice to see an effort by the Disney World team to accommodate families travelling with their furrier members.
So tell your doggos to pack their bags – Mickey is waiting!
Posted by Katie