Want to Join Taylor Swift on Stage? Are You Random? You're Chosen!
Image source Billboard.com
I am going to start by saying I am a T-Swift fan. I know she has a lot of haters but I am not one of them. I think she is fantastic, a great role model and I listen to a Taylor Swift playlist at least once a day. That said, she does have the MOST random guests join her on stage during her concerts. I know most are over Fight Song.
This summer's tour, however, has taken a turn…I am not sure who chooses her guests and what sort of criteria they need (apparently none at all). Okay, many of them are in fact talented big-name artists including Lorde, John Legend and most recently Selena Gomez and Justin Timberlake…I will give her that.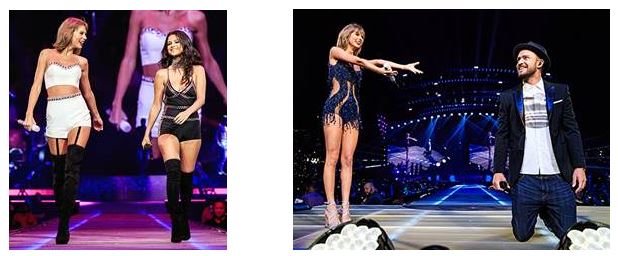 Image source UsMagazine.com, UsMagazine.com
Even strictly "famous" or "of the moment" I will give to her make some sense, including non-singers such as Ellen, Karlie Kloss, Lena Dunham and the U.S women's national soccer team.

Image source Time.com, Elle.com, Elle.com
On board with all of that but Matt LeBlanc? WTF… Where have you been?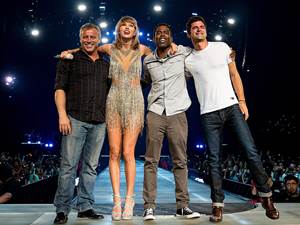 Image source People.com
And I owe what is soon to be my six-pack abs to this hysterical girl who captured it all in the most amazing parody I have ever seen. I can't stop watching and can't stop laughing.
I had thought I had seen it all, I really had, but after her concert on August 26…no…just no. Taylor Swift "Welcomed to the Stage" Lisa Kudrow and performed Smelly Cat. I just about lost it. Absolutely freakin' hilarious. She brought back the 90s and my fave show of all time and I loved it.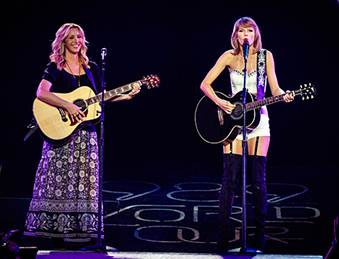 Image source UsMagazine.com
I am pretty sure she is done for the season as there is no topping that one…though, she may be on a Friends theme here…first Matt, then Lisa. Or maybe she will invite Jen Aniston, Justin Theroux, Brad Pitt and Angelina all at once for the first ever joint appearance. Honestly, wouldn't put it past her…
Posted by Meghan