Welcome Back, Sweet Sunday Misery!
It's time to crawl out of the bowels of Boston's winter hell and rejoice, my friends! No, I'm not talking about the weather finally warming up (added bonus, though!), I'm talking about Game of Thrones gracing our lives once again.
However, Sundays during GOT season can get a little conflicting. For starters, it's still the weekend and Sundays are made for relaxation and happiness (aka football season when you're washing down fried food with your 3rd beer at noon.) Yet, if you're one of the 6 million people who watch GOT each week, you really never know what you're going to get. By tuning in, you are basically walking into a cave completely blindfolded with no idea if you're going to fall off a cliff or land safely on a bed of pillows.
GOT is the ultimate love-hate. One minute the characters are warming your heart, and the next those same characters are brutally murdered in plain sight (hello, Red Wedding). If you haven't jumped aboard the GOT train yet, you may just want to stop now while you're ahead and save yourself the emotional abuse. But if you're sick and twisted like me, I know you'll appreciate the memes below.
Like I said, the love-hate.
As Mary J Blige says, love is blind.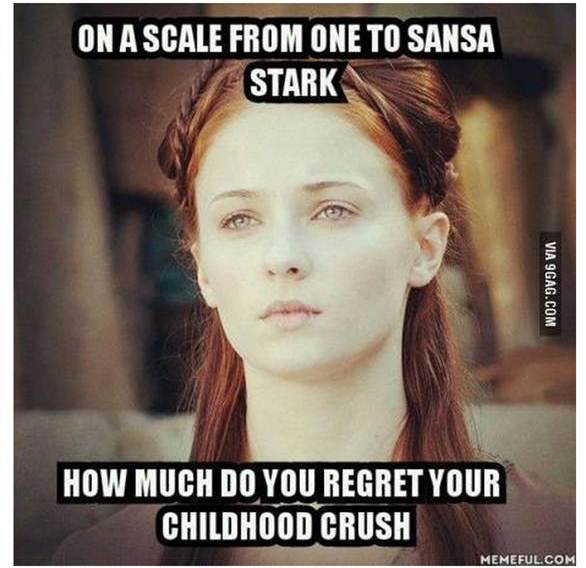 Hogwarts always seemed like a wholesome place…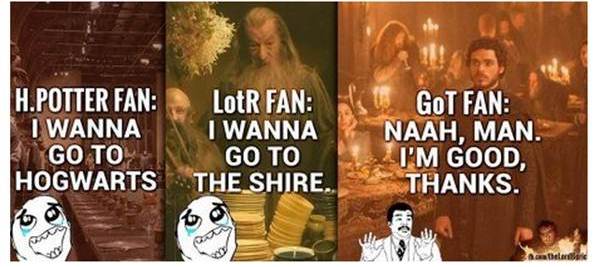 And yes, I am aware I could avoid most of this pain by reading the books, but I'm in too deep now.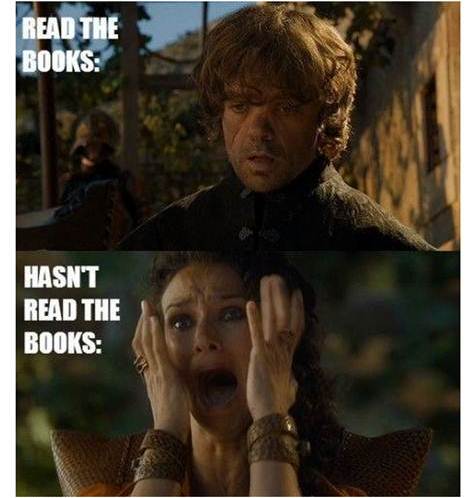 All images source Buzzfeed
So remember, Sunday's are all fun and games…until someone gets killed.
Posted by Tracy