What if Aladdin Had Instagram?
I'm not ashamed to say that Aladdin is one of my favorite movies. In fact, as I sit at my desk writing this I'm listening to the anthem Friend Like Me and have Prince Ali lined up in my queue. IMHO, Jasmine is the best Disney Princess with her voluminous braided hair and scandalous outfit. That paired with Aladdin's  poor-boy swagger and adorable monkey side kick make the couple my favorite Disney duo.
My slight obsession with Aladdin is the reason I was excited to see a recent post on Disney's blog titled "The Story of Aladdin, As Told by Instagram." The article shortens the full-length movie into 13 Instagrams, as taken by Aladdin's iPhone (??). Key movie scenes are summarized by short captions and clever hashtags, and the posts are an incredibly accurate portrayal of the movie.
Below are some of my favorites – see here for the full story of Aladdin as told by Insta.
Brilliant use of #RichKidsofInstagram, well played, Disney. 
If I was friends with a genie, I would brag about it over social media too.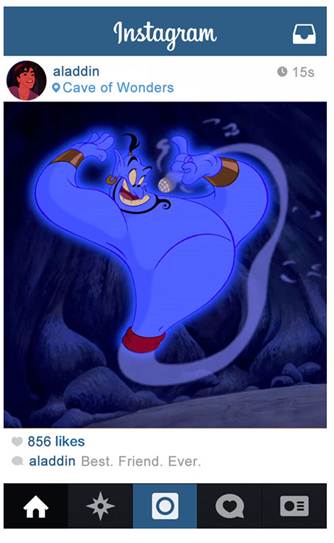 *Insert typical Mean Girls caption*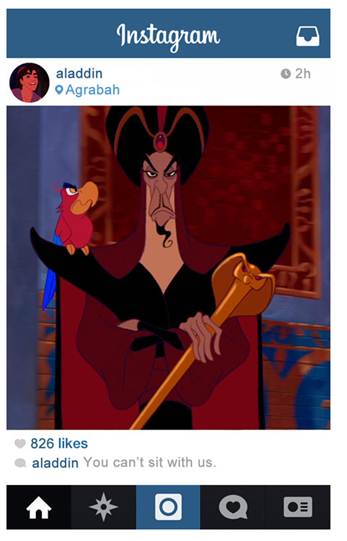 What type of royal wedding would it be if there wasn't a hashtag? #AladdinJasmineWedding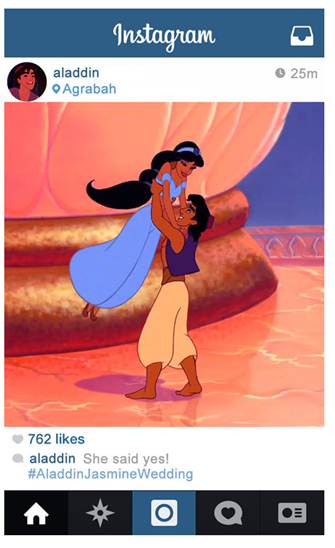 Posted by Nina