When Camping Meets Fashion
Over Memorial Day Weekend I joined Bostonians in the migration from the city to Cape Cod and, while I should be a pro at outsmarting Cape traffic seeing as I grew up smack dab at the midpoint between the Sagamore and Boston, I pulled a rookie move and began my journey from Boston to Chatham at 5 pm on Friday. Yes, a major fail in the playbook of Cape Traffic 101. After sitting in the HOV lane for two hours followed by excitement when we reached 10 mph, my friend decided to make a call to his friends, California transplants who recently moved to a 70's-esq lake house in Plymouth right before the bridge. We got off the exit, pulled up to the closest liquor store, bought a case of Narragansett Shandys and joined them for dinner. And by dinner I mean we ended up staying the entire weekend.
I went into this lake house situation not knowing a soul except the friend I arrived with and, by the end of the weekend, I had a whole group of new friends (crazy what happens when you're outdoors and not sitting around in a circle with your phones!). While everyone at this lake house was super cool,  I instantly clicked with the hostess, a free-spirited chick named Jess. As we pulled into the driveway Jess greeted us skipping with flowers strung in her hair, tie-dye pants and a backpack decorated with colorful fish, which held fishing supplies for fishing off the dock, of course. And by fishing I mean, catching fish, then kissing them because she felt bad for hooking them, then sending them back into the lake to "be free."
While I could already tell that I was going to become friends with this girl from first impression, what really sealed the deal on our friendship was when she squealed in excitement and yelled "It's on its way! It's on its way, eek!" then ran over to me and showed me a picture of what just might be the coolest thing I've seen in a long time….
Ever since I was a child I haven't been a fan of sleeping bags. If I did use one at a sleepover or camping up in NH, I unzipped it all the way so my feet could hang out. That's right, I'm one of those weirdos that untucks the sheets in hotel beds…I get claustrophobic, don't judge me people. But when I saw this colorful breathable contraption sitting there on my new friend's Pinterest account, I just had to spread the word about this awesome invention (good thing I'm in PR!). So here it is m.blog readers, I present to you the coolest sleeping wear since the onesie, The Rainbro Napsack….
Aren't these bros the coolest?!
Don't worry chiquitas, this Rainbro Napsack is also for us girls and little miss Jess had her eye on the coolest design they have…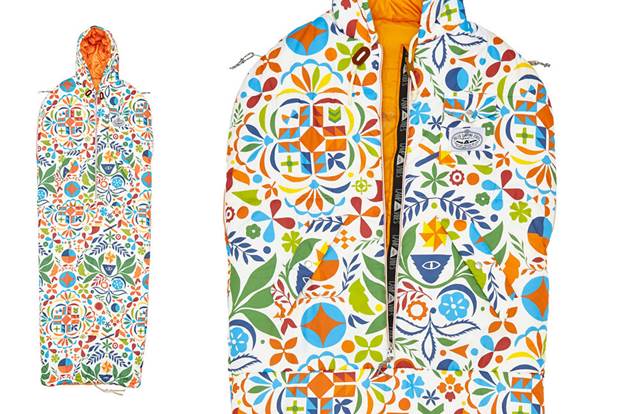 Fashionable and practical, now that's what we call a win-win!
After months of careful research and putting away money from her paychecks, Jess's slumber-wear arrived in the mail and, of course, she sent me a pic right after sporting it while she was fishing on the dock with her fishy backpack. Looks pretty good, amiright?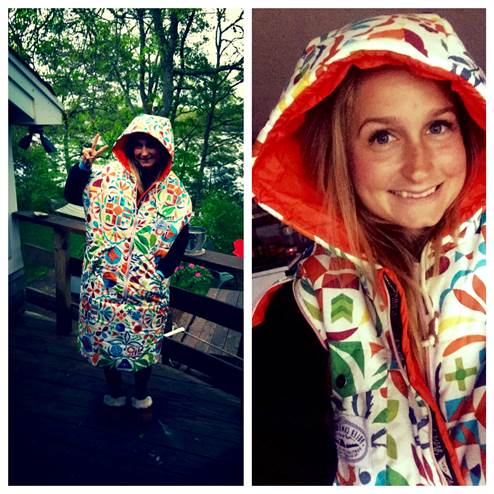 All Images Source PolerStuff.com
I'm calling it, people, this is going to be a trend and lucky for you m.blog readers, you're way ahead of the movement. Dust off your traditional sleeping bags, sell them on Craigslist and be the coolest kid at the campsite this summer with your new Rainbro Napsack. You can thank me later.
Posted by Christina