Where The Party At?!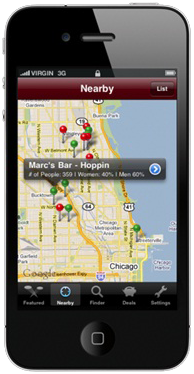 Just when we all thought the idea of facial recognition technology sounded like a creepy Big-Brother ploy to monitor our every move, someone invented a totally practical application intended to help you get jiggy.
SceneTap is a start-up that uses facial recognition technology to keep a running tally of the sexes in a given place at a given time allowing you, the lonely wolf, to track down the best places to interact with people of your preferred gender.
How does it work? To start, bars would install facial recognition cameras at their entrance and exit points that, while not advanced enough to detect or cross-reference specific images to Facebook, can accurately detect a person's gender. Using the accompanying app, the data is mapped out—allowing you to save on the cross town cab fare or the disappointing realization that the line you just waited in turned out to be [insert: the bachelorette party for your arch-nemesis, an all-male private science-convention party, etc.]  Although not available until the end of July, so far over 200 bars across the country have signed on, with over 50 bars in Chicago, aka the company's home base.
According to the founders, because the technology isn't sophisticated enough to detect identity you won't have to worry about any data being stored regarding your whereabouts. In other words, last Friday's 10-spot bar crawl will stay between you, your credit card statement, and everyone who saw you playing air guitar to Journey at the end of the night.
So if you're looking to increase your statistical chances of meeting Romeo tonight? Well, now there's an app for that.
Posted by Emily
Posted By: netgain