Who Needs a Social Media Manager When You Have a Chicken?
Image source Youtube
While recent college grads find themselves unemployed and still living with their parents, Betty the chicken found herself a job as the face and social media manager for Australian fast-food franchise, Chicken Treat. Her new job comes with a lot of perks, too, including her own private chicken coop with paid utilities, free meals and a window office with unlimited Internet access.
The new gig is no walk in the barnyard, though. Betty is under pressure to earn herself a spot in the Guinness Book of World Records for being the first chicken to send a tweet, which must include one English five-letter word.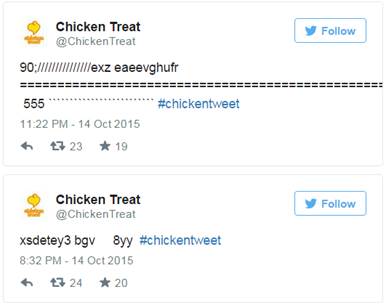 It's a tall order for a chicken that can't read, write or speak any human language, but Betty is one tough bird and isn't about to let the man keep her down. She's already spelled her first three-letter word, "bum."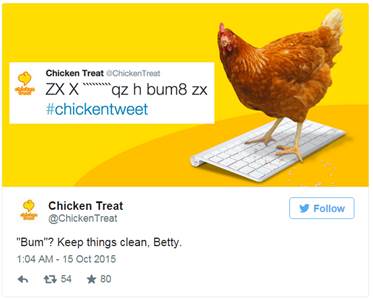 The campaign is actually pretty brilliant. Every marketer and PR person has received numerous requests for creative, viral social media campaign that costs the client virtually nothing. Who knew the answer was in the barnyard? The costs for building a coop and caring for a chicken are relatively minimal (I know this and can actually break down the expenses for you, if you'd like, thanks to my high school years in rural Indiana) compared to most brands' social media campaigns. It has also earned Chicken Treat boatloads of international press including TIME, The Daily Mail, The Daily Meal, Eater, Yahoo UK and the list goes on.
Pretty good work for a chicken. Hopefully, all her fame will save Betty from the dinner table when her 15 minutes have ended!
[youtube http://www.youtube.com/watch?v=CsuKDPh_1MU]
Video source Youtube
Posted by Destiny