"Who needs toilet paper when you can get all you need from #CVS pharmacy receipts?"
Image source The Boston Globe
I'm all about using coupons. I wouldn't go as far as TLC's Extreme Couponing and hoard crates of Chef Boyardee and baked beans in my basement, but I like to save a buck or two if I can. I've been a proud card carrying member of CVS's ExtraCare card since high school and I near shriek with glee when I get emails about my ExtraBucks (pathetic? Yes). But as much as I love CVS and have spent likely thousands of dollars on various hair care products, I have to agree with the recent uproar over the store's five-foot long receipts. There are a few things wrong here: 1) don't tease me with coupons if they are just going to be for $1 off $30 spent on CVS brand Rogaine or baby formula (neither of which I need), 2) why do they expire approximately 12 hours after I receive them? And 3) I just bought eco-friendly dishwasher detergent and now you're killing about 17 trees with my receipt.
Everyone is voicing their opinions over the "magna carta" size receipts…even Matt Lauer weighed in, so you know it's a legit issue!
To CVS's credit, they acknowledged the problem and found a way to reduce the paper waste by 25% next year, and will begin emailing coupons more frequently. Yet the fun still continues with a parody Twitter handle that has folks chiming in about the craziness. While I generally think people's humor on Twitter should be met with the sound of crickets… here are a few gems that made me laugh:
Who needs toilet paper when you can get all you need from

#

CVS pharmacy receipts?
Not sure which is longer – a receipt from CVS or the runway from Fast and Furious 6
CVS receipts are like if my Spam Folder came to life
Welcome to CVS, here's a bag for your items and a bag for your receipt
Am I the only person who's noticed that the NFL is using a CVS receipt instead of a chain to measure for first downs this season?
PS – totally just got an email for 25% off at CVS while writing this post… are they watching me?!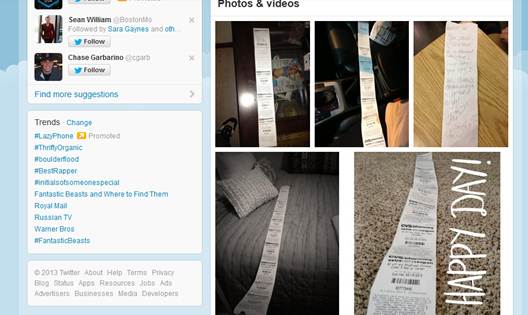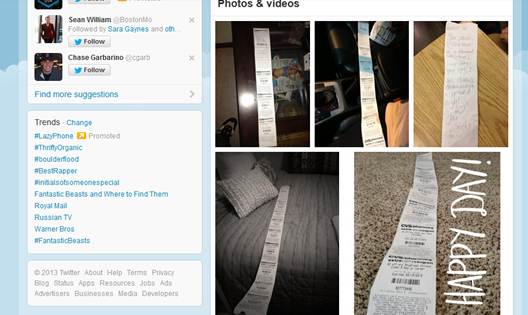 Image source @CVS_Receipt
Posted by Amanda