Who Runs the World? Kerry. Or Should I Say, Olivia Pope.
Image source Buzzfeed.com
Unless you have been hiding under a rock these past couple of months, or are just averse to all things pop culture fabulous, you are bound to recognize both the name and face of Kerry Washington.
When she is not on the cover of just about every magazine on the racks or killing it on Saturday Night Live (if you haven't yet watched her transform into Michelle Obama AND Oprah within the course of several minutes, you definitely need to check it out) she is probably just spending her evenings snuggling up to her super-hot NFL husband. (No, you're not seeing things, he's really that gorgeous.)
Since landing the role of Olivia Pope on ABC's Scandal—and becoming the first African American woman to be the lead in a critically acclaimed primetime show no less—Kerry Washington seems to be able to do no wrong. And, if you are anything like me, you are completely and absolutely loving it. And her. And most importantly, Olivia Pope. No one else on TV is as impeccably flawless as Olivia Pope while still being the ultimate problem-solving badass. Don't believe me? Buzzfeed gives us proof. Just a few reasons why Olivia Pope is utterly and completely amazing:
Reason #1: She drinks red wine. A lot of red wine. While always wearing white and never spilling a drop. Believe me, that sh*t ain't easy. But she makes it work. Witness: 14 Times Olivia Pope Didn't Spill Her Red Wine All Over Her White Clothing.
Reason #2: She never makes a fashion misstep. Case in point: 27 Times Olivia Pope Looked So Ridiculously Perfect And Beautiful and Perfect. No matter the situation, Olivia Pope always looks bangin'. It's really no mystery why the President wants her. All 27 of these looks are flawless (and there are so many more that aren't included), but here are a few of my favorites from the list
What, you don't wear things like this to a work event?
She owns this white hat. And wears it to work. And looks amazing.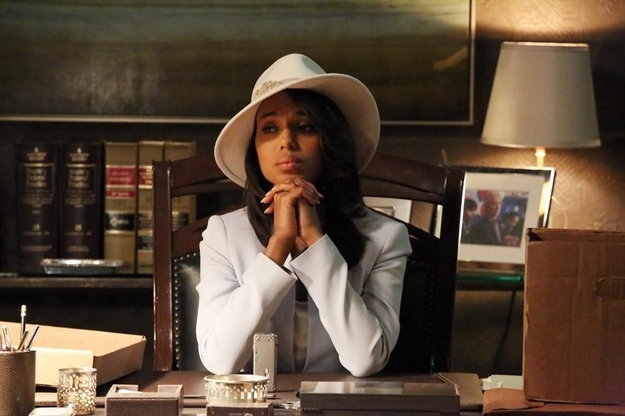 Image source Buzzfeed.com
If you haven't been watching Scandal yet, it's time to wake up and join the world. As for the other 'Gladiators' out there like me, if you are questioning whether or not your relationship with the show has evolved into a full-on obsession, you can now check yourself with this helpful little quiz: 24 Signs You May Be Addicted to 'Scandal'. (My use of the term 'Gladiators' already proves that I am a goner.) They say that acknowledging you have a problem is the first step to curing any addiction. To that I say, if being addicted to all things Scandal is considered wrong, then I don't want to be right. And now I'm going to spend the next few minutes of my life geeking out over a slideshow of every single outfit Olivia Pope wore during Season 2…  peace out!
Posted by Amy