Why Chris Pratt is Currently Ruling the World
Image source Instagram
You all may be swooning at Chris Pratt in "Guardians of the Galaxy" and in promos for "Jurassic World," but I have been lusting after him since his "Everwood" days. Remember the charming, curly-haired Bright Abbott? What a stud. Starring as the lovable Andy on "Parks & Rec" only solidified his place in my heart. And in his newer, aforementioned movie roles, Pratt proves that he is a serious actor. No wonder he was just named Hasty Pudding's "Man of the Year."
But what makes Chris such a likable person is not just his talent, it's the fact that he basically just rules in all facets of his life. He is himself, and makes no apologies for it. And he just happens to be the sweetest, funniest, coolest dude on the big screen right now. Here's why:
1. He started from the bottom.
Chris has no formal acting training. He dropped out of college and became a coupon salesman, while being homeless in Maui. He was discovered while waiting tables at Bubba Gump Shrimp Company. After Everwood, he began securing smaller roles until he blew up at the start of "Parks & Rec" in 2009. Everyone loves a good underdog story.
2. He is the best dad ever. And an awesome hubby.
At a recent March of Dimes Celebration of Babies event, Chris told an emotional story about his son, who was born nine weeks premature.
"I've done all kinds of cool things as an actor — I've jumped out of helicopters and done some daring stunts and played baseball in a professional stadium, but none of it means anything compared to being somebody's daddy," Pratt said.
Also, he is married to the hilarious and adorable Anna Faris. And you can just tell they really love each other. As he told GQ:
"I married way out of my pay grade. I have no idea how that happened. She's so goddamn funny and so good. She is a legit comedy powerhouse. But I'm not going to question it too much. I don't know what it is, man. I guess chicks dig love handles or something."
3. Andy and April are the best on-screen couple ever.
Chris not only rocks his real relationship, he and Aubrey Plaza absolutely crush all other TV couples. Ever. Like, possibly even Monica and Chandler. If you haven't watched "Parks & Rec," it is worth watching just for their antics and on-camera chemistry.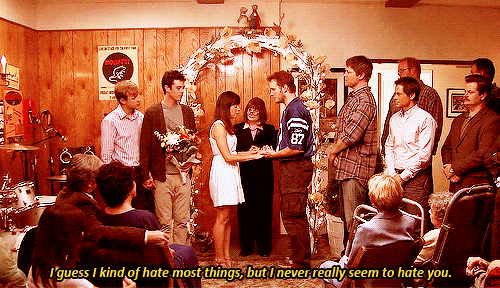 Image source rebloggy.com
4. He is charitable and he cares about other people.
If you following Chris on his various social media channels, you know that he is involved with various charitable causes and often takes time out of his work life to visit hospitals and participate in charity events.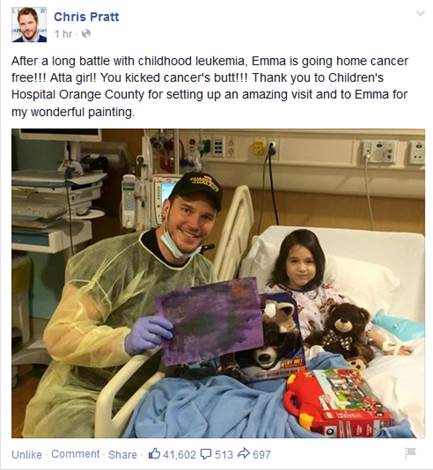 Image source Facebook
5. He's humble
As I mentioned before, Chris knows what it's like to struggle. So maybe that's why is so down-to-earth and gets genuinely appreciative of all the success that he enjoys in his work and personal life. He's just a funny dude in an industry filled with really fake, self-absorbed people.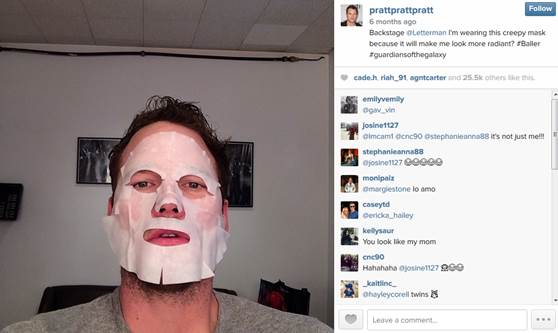 Image source Instagram
Harvard, if you're reading this, I would forever be grateful to attend the Hasty Pudding festivities on February 9. Thank you.
Posted by Erin D.