Why I Sold Myself for $225
A few weeks ago I was sitting at the Team IMPACT gala, wondering why branded tissues adorned the dinner table. Five minutes into the ceremony, it clicked, this was going to be a tear-jerker. From a single mother's story of caring for a sick child on her own, to a sick child sharing how he hated the way he looked until he was drafted for a college sports team and finally felt strong — there was not a dry eye in the room.
One little boy, who goes through an average of four surgeries a month, wheeled up to the stage and shared his powerful story of struggle and hope. Before he left the stage, emcee Wendi Nix (ESPN) asked him, if you had one piece of advice for everyone, what would it be? His answer – push yourself to try something new that scares you. Cue the tissues.
So here I am, walking home from the gala, thinking about how much I let fear get in the way of living life. I start thinking about what I've been wanting to do, but don't because I'm scared, like taking a train x 360 class at EBF (what if I throw up?! how embarrassing!), becoming a mentor for inner city kids (what if I can't commit to weekly meetings?! what if I let them down?!) and the biggest thing of all that scares me? Dating.
The idea of sitting at a table for two and eating with a man who barely knows me scares the living sh#t out of me. Will I talk too much? Not enough? Will he run away when he finds out I'm a vegetarian? What if he's a tool? How do I run away? I have knots in my stomach just thinking about having to go on a date! I've always met guys through mutual friends and never had to do the "let's get to know each other over food" thing, but now that I'm older, I'm realizing that the house party scene is far and few and this whole meeting through other people thing is becoming a thing of the past.
Okay, enough about my dating anxiety (#foreveralone), but fast forward a week after the gala and cue my friend Katrina telling me that our friend Eliza and EBF trainers were having a dating auction to raise money for their hike up Mount Kilimanjaro for Flying Kites.
"You know, they're looking for more people to auction off," Katrina says. My mind automatically goes to "that sounds like my worst fear," then I hear the little boy at the gala say "do something that scares you" and I don't know if it was Irish Guilt or just my impulsive nature, but I responded, "sign.me.up."
Fast forward to the date auction — I bring a crew (three friends) to cheer me on, give them each $20 and hope that they'll bid on me for at least $60. The auction is about to commence and I order a Bulleit with a splash of ginger and a lime and approach the emcee as he calls us up to the front. Next thing I know, he's telling the audience to make an aisle for us to strut our stuff. A detail Eliza so kindly forgot to fill me in on. Yup, these girls are doing backflips and shimmy-ing down this "runway" with hundreds of eyes on them, casually working the crowd. This is literally my worst fear.
The first girl, a fitness celeb in Boston goes for $350…oh sh#t, I only gave my friends $60…I can't afford more than that right now, this is going to be humiliating. The next girl goes for $75…okay, I can stop shaking now…next girl, $150! next girl $100! next GUY, after a cartwheel…$175! What am I going to do?! I'm going to run, that's what. I slyly try to Irish exit this shindig when I hear, Christina is a 26 year old publicist living in Southie…it's my turn. All eyes on me.
I gulp down my whiskey, ice and all, and approach the runway. Then, I wave. And I keep waving. I think I threw a queen wave or two in there…I was quite literally the most awkward a person being sold at a date auction could be. Then, the auctioneer says "she's a sucker for a good pun, wanna taco 'bout it?" and I react as anyone would – I start cheering "do it for the tacos, do it for the kids!" I channeled my inner Team IMPACT kid-hero (or maybe my inner college bro) and started a chant. Before I knew it people are cheering for tacos and my bid is getting higher and higher — $100 – $125 – $150 – $200! Who can beat it?! A man checks his bank account (can't make this sh#t up) $225! I can't believe it, I'm shaking. Sold to the man in red for $225!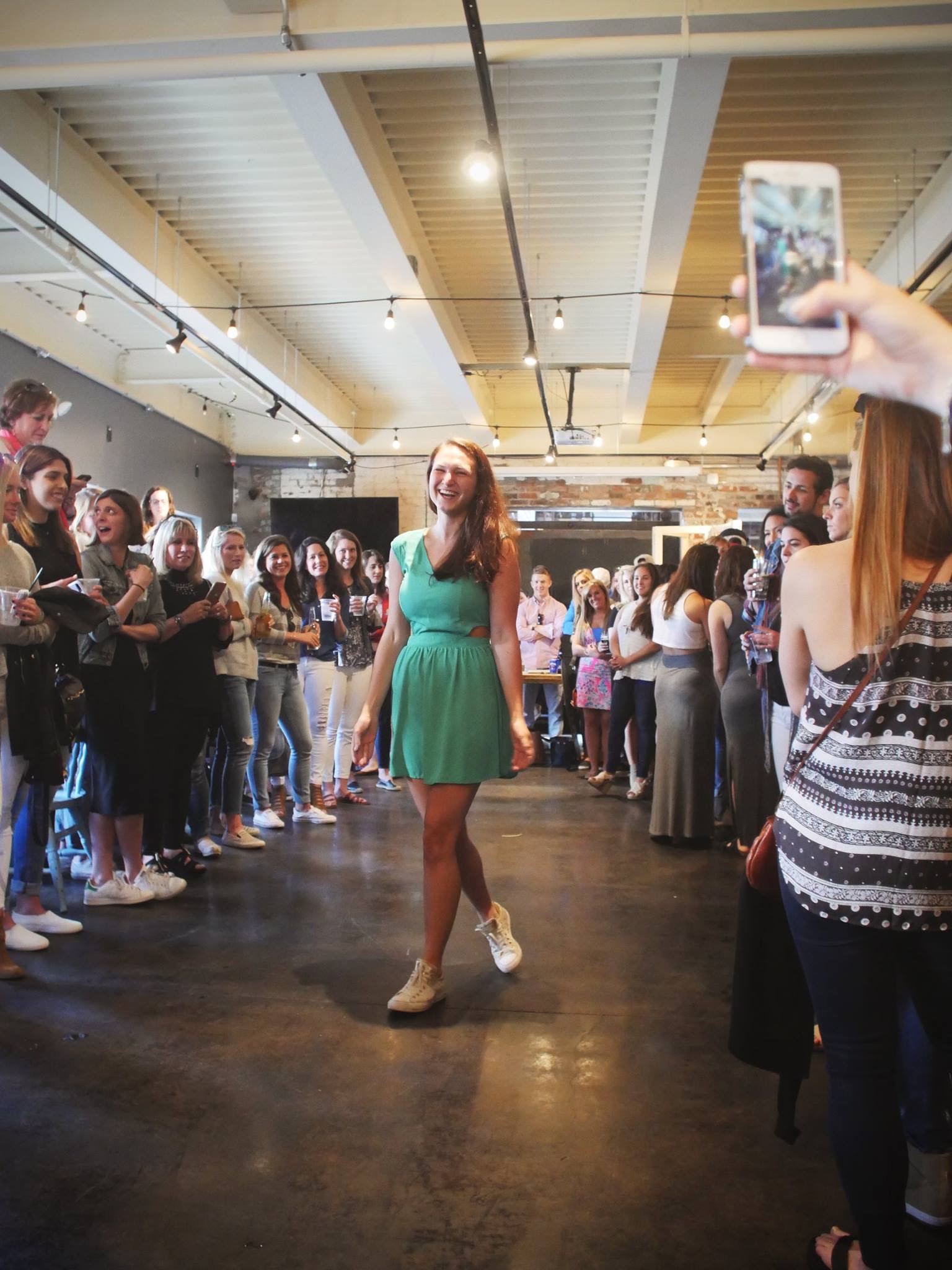 To think I was going to Irish exit…I'm such an a$$hole. I faced my fear and in the most awkward way ever, I sold myself (and tacos) and raised $225 for the kiddos, all because of this boy, who is stronger than I'll ever be.
Posted by Christina B.