Why I WON'T Be Seeing Brad Pitt's "World War Z"
In a world where movie studios battled for the rights to adapt the book World War Z: An Oral History of the Zombie War – ONE MAN has stood triumphant.
Brad Pitt and his production company will release the colossal film adaptation of Max Brooks' gripping zombie apocalypse novel this coming Friday, June 21. As an ardent fan of the book, I promise you this: I will NOT see the movie.
And here's why:
1.  The story strays too far from the book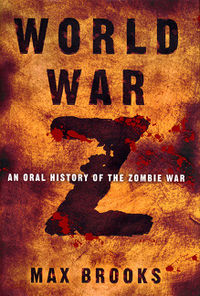 World War Z: An Oral History of the Zombie War is an elegant, complex collection of first-person accounts 10 years after a global zombie outbreak. Each chapter is a different survivor's tale, each unraveling the timeline. This structure spanning years, continents and cultures is what makes the novel so spectacular – and also intrinsically difficult to adapt to film.
In the movie, Brad Pitt's character is (naturally) the connecting thread. As United Nations employee Gerry Lane, he races around the world trying to stop the zombie pandemic that threatens to destroy his family and all of humanity. The movie will try to integrate the characters he meets along the way, but the focus is still on Pitt. The book gave equal balance to each chapter's narrator and it will be a shame to lose that depth of perspective.
2.  Production has been plagued with difficulties
Since securing the rights in 2006, Brad Pitt's Plan B has laboriously struggled to bring the World War Z adaptation to life. Today, the film's ballooning production has itself become an industry horror story.
Problems with script and budget delayed the intended Christmas 2012 release (it's rumored the film began shooting without an ending). Director Marc Forster and initial screenwriter J. Michael Straczynski couldn't see eye-to-eye. Matthew Carnahan also turned in a draft and finally Damon Lindelof was brought in to finalize the script with Drew Goddard, before writer/director Christopher McQuarrie stayed on set to tinker. Reviews thus far are understandably mixed.
Finally, there's the budget, which due to reshoots and epic location scenes clocked in close to a behemoth $300 million.
3. Fast zombies
C'mon, guys!  From Night of the Living Dead to Thriller, zombies have always been slow. That's because they are decaying bodies with no brains. But from the looks of the World War Z trailer, zombies can collectively scale towering fortress walls and jump onto helicopters, thus betraying the rules of zombie lore. This same argument is occasionally directed at The Walking Dead when zombies can suddenly outrun able-bodies humans. The only acceptable caveat is a viral outbreak, a la 28 Days Later.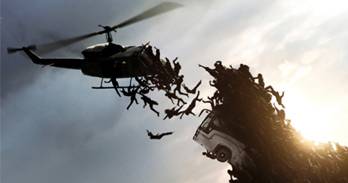 Image source ScreenRant.com
So even if the lure of Brad Pitt and zombie action has made you curious enough to see the film, please make World War Z part of your summer reading list. On that, you won't be sorry.
Posted by Michelle
Image source FirstShowing.net & Wikipedia