Wind Tunnels I Have Known (A Cautionary Tale)
With temps dropping daily and meteorologists predicting the infiltration of "strong arctic blasts" to creep into our fair city any day now, I have begun to realize with a deep sense of impending doom that Boston's wicked winter is nearly upon us. I love living in a walking city, but not when my nice winter walk  turns into a staggering battle against 60 mph gusts. After spending many a winter's day channeling my inner James Bond, flat backed against buildings and peering cautiously around corners, I have finally mapped out a guide of the Boston's worst wind tunnels. You're welcome.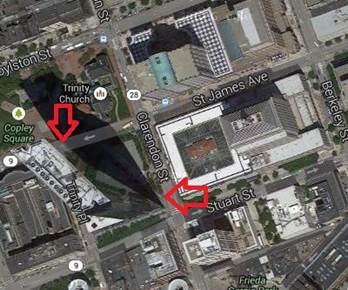 Clarendon between St. James and Stuart Street
Although I deeply appreciate the beauty, height and architectural marvel that is the John Hancock Building, I have a blustery bone to pick with its illustrious creator, I.M. Pei. The wind tunnel resulting from the building's epic glass façade could blow the mustaches clean off of every Movember participant in the Back Bay at once. Not only do the surrounding icy gusts rob you of your warmth in the winter, but come summer, they opt to rob you of your dignity as well. I have the wonderful privilege of being able to walk to work by the John Hancock building each day and after pulling a full summer of Marilyn's, have dubbed the structure a tribute to women's undergarments in honor of the thousands of skirts and dresses that get blown sky high (and showcased by 40 reflective glass panes at every angle for the enjoyment of bystanders) from April to September.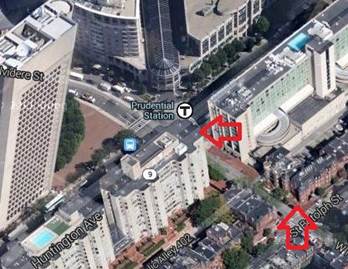 Between the Colonnade Hotel and the Pru
This little cross section just outside the Prudential shopping center has created a perfect storm of hostile gusts and sustained gale force winds. I once saw a woman heavily laden with shopping bags get blown over on the sidewalk, not to mention this area was voted on foursquare as "the easiest place to get blown off your bike." YAY.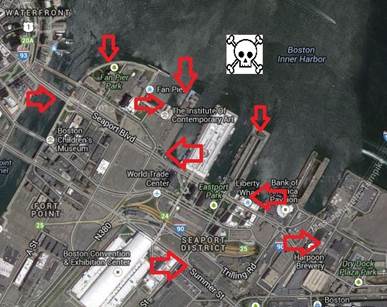 The Seaport District
Pain. Pain and suffering. Just don't.
Images source Google Maps
Posted by Jenna