Winter Ennui Rx
It's grumbled in elevators, is the constant subject of office small talk and is written on the wind burned faces of New England commuters:  This frigid and unending winter weather assault sucks. Even Nanook of the North would be popping Prozac at this point. When it comes down to it, it's no secret that I would rather be sunning myself on 60 degree March days than skiing in 6 degrees below freezing, but this year I've decided to change my bad attitude (at least for the next couple of weeks until the vortex lifts. Baby steps my frozen friends, baby steps). Instead of lounging around the apartment all weekend swaddled in sweaters, scrooging about the real feel outside and yelling atrocities at Al Roker, I dare you to take the temps head on with one or both (if you're feeling rambunctious) of these winter wonderland adventures:
Hunting with Hawks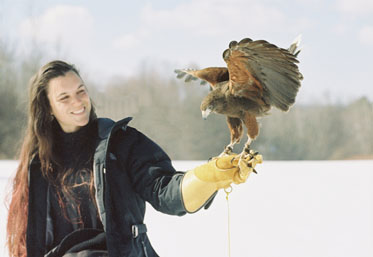 Image source Newenglandfalconry.com
Last February, I tied on my hunting cap and made the trek out to Amherst, MA to hunt small game with the one and only hawk handler of New England Falconry. After I got over the strangeness of meeting a man with a van full of predatory birds in the middle of nowhere New England, I found myself quite enraptured by the sport (and channeling Michelle Pfeiffer in LadyHawke), which proceeds accordingly:
1. Send hawk into the sky with as much pomp and circumstance as you can muster
2. Follow it through the woods on foot while it looks for prey
3. Wait (note: this can often take hours, nips of scotch are always encouraged to keep the spirit warm and moral high)
4. Watch it catch, kill and carry the woodland creature back to you
5. Celebrate by giving the victorious hawk a tiny sirloin treat
6. Make Rabbit for dinner!
All in all, even if you don't catch dinner, think of how many likes you'll get when you post your pictures on instagram #falconry.
Dogsledding in the (Real) Frozen North: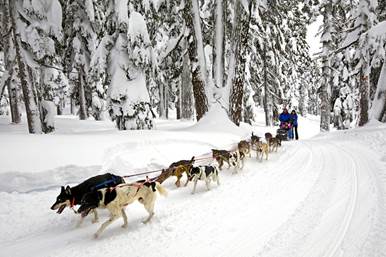 Image source  eskimohuskies.com
Polar fleeces, pure white snow, perfect views and PUPPIES. Take a trip to the real frozen North of Quebec for a dogsledding excursion. Not only is this just the coolest (literally) thing ever but it will make your return to Boston feel like you've arrived in balmy Bermuda. The entire site is in French so I can only surmise that the trip is as pretentiously perfect as the pictures make it appear. Mush!
Also, if these faces can't lift your winter ennui, I don't know what will: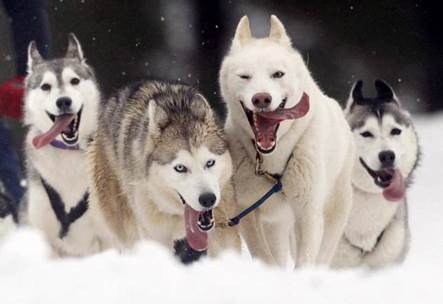 Image source Qpups.net
Posted by Jenna