It's the Most Wonderful Time of the Year
October is one of my favorite months. Not only is it smack-dab in the middle of my favorite season and I get to wear my favorite clothing (oversized sweaters, leggings, dark and muted colors), but it includes Halloween, everyone's favorite excuse to dress up and binge on sugary treats! I myself have never been big into costumes, and I will admit that the past couple of years I have skipped out on the holiday altogether (except for the candy, of course). There is one element of Halloween, though, that I will fully enjoy until the end of time: PETS. IN. COSTUME.
Since this is the first year I have my own dog (not counting a few family pets growing up), I started my costume shopping early. Like, July early. I just needed to find the perfect outfit for Rosco. "He is already so darn cute… how am I going to find anything that makes him MORE adorable?!" I thought. Needless to say, I ended up purchasing an Ewok costume, thinking that if we end up going to a party, Dave and I would look pretty damn good as Han Solo and Princess Leia.
Rosco is normally pretty tolerant when I force him into clothing. He wears a Red Sox jersey like a champ, and will even let me put on his frog rain jacket in adverse weather. However, he was NOT happy when I busted the Ewok out of its package. In fact, it took two of us about ten minutes of luring him with treats and physically holding him in place to get the above photo.
Did Rosco hate me for forcing him to be an Ewok? Probably. Was it worth a few minutes of him hating me to get this photo? ABSOLUTELY.
In the spirit of the time of year that brings the ultimate joy of pets in costume, here are some of the costumes worn by office pup Lulu over the years (with a special appearance by Mai Tai, the fur child of our very own Destiny Sibert):
Lulu the Minion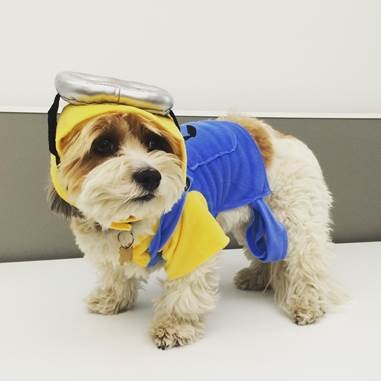 Lulu the Reindeer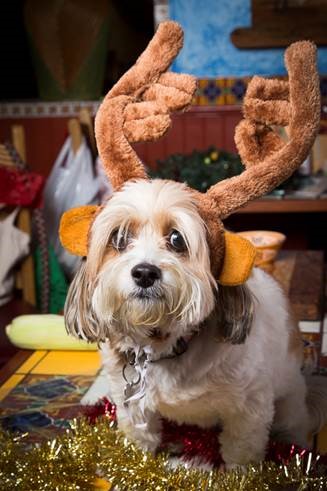 Lulu the Lobster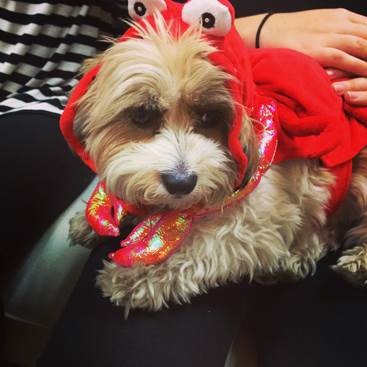 Lulu the Devil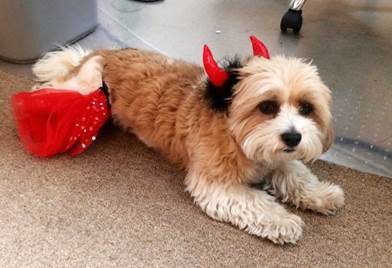 Lulu Just Bein' Lulu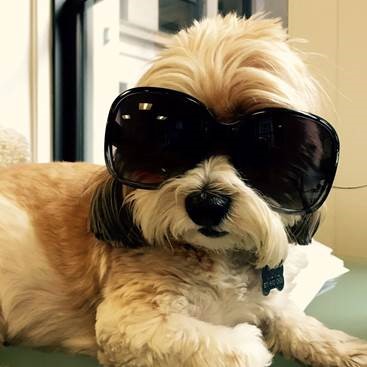 Mai Tai the Taco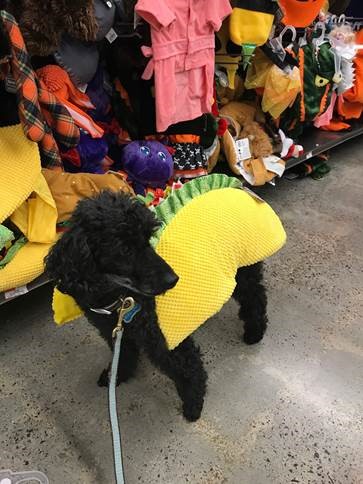 Posted by Erin D.