World Class Cafeteria Food
Image source Brigaid Instagram
Undoubtedly you've heard of Noma- the boundary-pushing and critically acclaimed restaurant in Copenhagen, Denmark. Well, did you know that Dan Giusti (former Head Chef) left Noma to serve lunch to kids in Connecticut? Yup. He left his swanky career at Noma and started a company called "Brigaid."
The mission of Brigaid is "transforming the way schools serve meals to America's schoolchildren." Giusti and his team picked New London, CT to launch their pilot program before they branch out to other US schools. Due to federal regulations for public school lunches they have a very strict budget, which means they have to get creative. I follow them on Instagram to see all of the amazingly cool things they come up with. These meals are NOT your old school sloppy joes and mystery meat surprise.
Giusti aims to place top chefs in charge of school cafeterias and give cafeteria workers and students knowledge. He educates them about food and where it comes from; Giusti hopes this gives them a greater appreciation for food and for meal time in general. Lunch shouldn't be a greasy concoction you scarf down in 10 minutes; lunch should be enjoyed. Kinda makes me wish I was back in line at the cafeteria again….almost!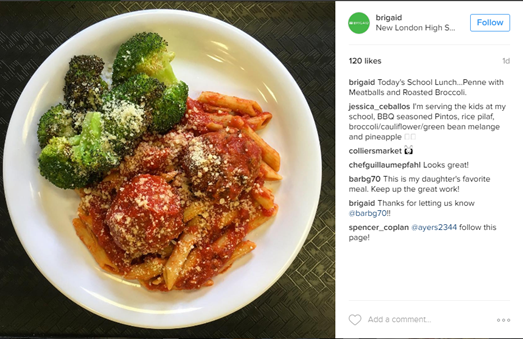 Image source Brigaid Instagram
Posted by Allie.