Ya'll Are Doing It All Wrong!
Image source Southern Living
Let me start off by affirming that I love Boston, really, I do. As a native southerner born, raised and educated  in the Old Dominion of Virginia, I was surprised and delighted with how quickly I developed a deep and loyal love and appreciation for Beantown – I really do run on Dunkin', Gisele is the fairest of them all and of course, GO SOX! However, when it comes to the delicate art of pie making, my heart will always lie below the Mason-Dixon line. This being said, I have no intention of leaving my lovely little Tea Party town anytime soon, and have therefore decided to share with you all the southern secrets of successful apple pie prepartion and presentation. Use them wisely my lovely little Yanks, and feel free to present your attempts to me for fair and honest judgment at any time.
Toss the puny pie tins.
I attribute the (ever so slight) definition in my arms to cooking nearly every meal with my trusty 12 lb iron skillet. If you don't have one, get one. If you do have one, get an even bigger one. After making a pie in one of these little beauties you will never look at an aluminum pie tin the same way again. Prepare to be changed.
Get cheap.
Anyone who knows me will tell you that I love Whole Foods. I know the cashiers, butchers and seafood guys by name and I don't hesitate to shell out a pretty penny for my weekly supply of sprouted grain bread and hemp & flax granola. That being said, I have found that cost of a frozen or refrigerated pie crust directly correlates to its taste. Translation: the cheaper, the better. Also, don't even think about pulling a Martha and making it yourself, leave it to the professionals, Like Mr. Pillsbury Doughboy.
The butter goes on the OUTSIDE.
So you've got your skillet, $2 pie crusts and your apples, now it's time for you to learn the true secret of a seriously sensational southern apple pie. Take 1 stick of butter and a cup of brown sugar and put it in your skillet. Melt. Lay pie crust overtop butter bath and begin to build your pie. No, I'm not kidding, no, it won't make a charged smelly mess in your oven and YES, an entire stick. Just trust Auntie Jenna on this one, things are about to get DELICIOUS.
You are using the wrong dairy topping.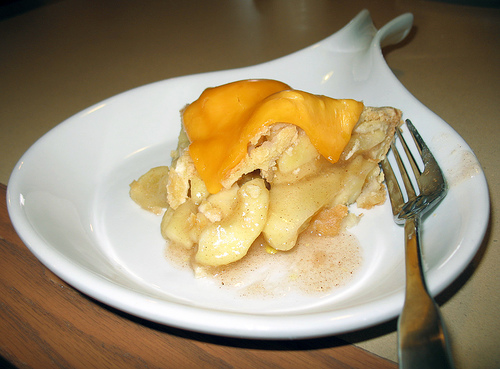 Image source Mandy's Motherhood Musings
This step is not for the faint of heart (I mean this literally, if you have ever had heart problems just skip this step…better yet, step away from the pie entirely). Ice cream is fine and dandy, but for the true southern experience, "garnish" your lovely just-out-of-the-oven creation with a slice of good old American cheese (and none of that fancy seven year aged cheddar, individually wrapped American singles are the only way to go). Enjoy!
Posted by Jenna