YEEZY by IKEA?
We all know Kanye West (aka Yeezy) knows how to make headlines – most recently, with his "Famous" video, featuring the likeness of some of the world's biggest and most controversial celebs (from wifey Kim K. and her sex tape partner Ray J., to Donald Trump, to Bill Cosby), all naked in a giant bed together. Oh, and he is strategically placed next to Taylor Swift, who he got into an all-out social media feud with when the song was released with offensive, possibly not (but maybe?) approved-by-Taylor lyrics.
And we all know that Kanye loves Kanye. I mean, he really loves himself. And he truly believes that he is the best artist/performer/person that has walked the earth. Recently, though, someone impressed Kanye other than himself: our fave Swedish furniture designer, IKEA.
A few months back, Kanye shared with the Twitterverse just how inspired he was strolling through the store, followed up by a drawing of a bed he is trying to design for his mansion.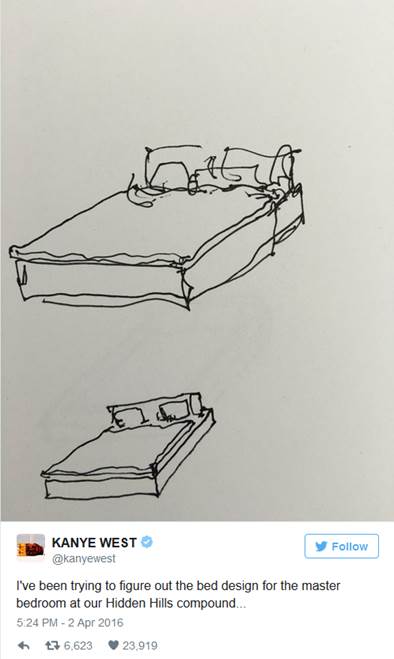 Images source Kanye West Twitter
Then, earlier this month, he talked about his desire to work with IKEA in an interview with BBC Radio 1:
"Yo Ikea, allow Kanye to create, allow him to make this thing because you know what, I want a bed that he makes, I want a chair that he makes –  I want more products from Ye," he said, in his best college student impression.
He also told host Annie Mac, "I have to work with IKEA – make furniture for interior design, for architecture."
In a brilliant Facebook post, IKEA Australia responded to Kanye's request with this: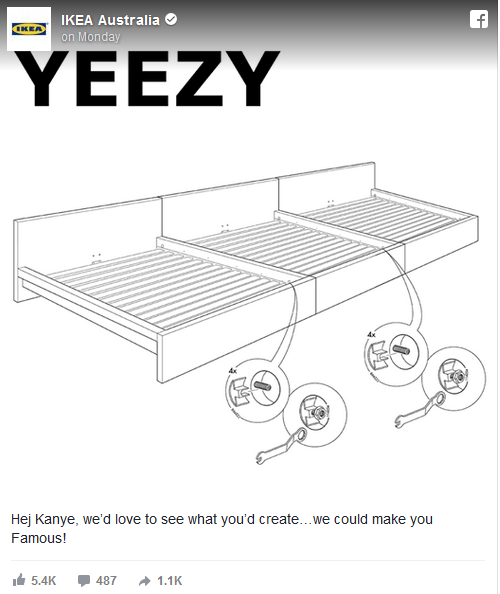 Image source IKEA Australia Facebook
Does that bed look familiar? Damn, IKEA Australia, you're good.
Additionally, an IKEA spokesperson told CNBC, "Although we are really flattered by Kanye West's high interest in IKEA and the speculation around a joint venture, we have no plans to collaborate at this point in time."
While it doesn't look like Kanye will get his wish right now, we will see if he can convince them in the future. Because no one rejects Kanye. No one.
Posted by Erin D.