#YesWayRosé – Filter Inspired Pink Hair is Trending on Instagram
Let me paint you a familiar picture (heh, see what I did there?) – you've just captured a perfect city skyline at sunset, and you're ready to share it with the masses (meaning the 300-something peeps who follow you on social media, natch.) Yes, your latest digital masterpiece looks pretty in its untouched, au naturel state, but it's missing something… something to take it from lovely to "um, that's unreal." So you turn to your trusted Instagram editing palette, because you're not about that #nofilter life. Some saturation here, a touch of a warm, golden glow there, a not-trying-too-hard Adele lyric as a caption, and voila! This eye candy photo is ah-mah-zing and ready to be posted.
Artsy special effects enhance our photos in ways that just aren't always available to us IRL (In Real Life in Insta Speak.) For the most part, Amaro, Valencia and our other fave, go-to lenses live only on our iPhones and social media feeds. Womp womp, sad trombone.
Well, celebrity hair stylist (the not-so-secret weapon behind Lauren Conrad's flawless locks), Kristin Ess, is bringing filters into the real world. The tresses guru recently debuted the #RoseFilterIRL hair color which features a blend of cool beige tones, subtle copper lowlights and strawberry blonde highlights. Ess, who created this signature hue for her famous client, Ashley Tisdale, was inspired by how blonde hair looks when photographed and filtered on Instagram.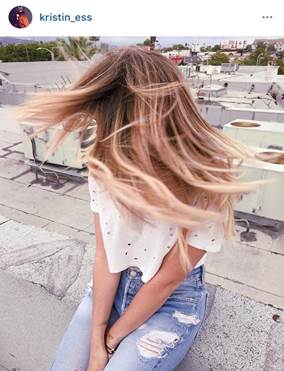 Image sources: Instagram
Upon doing a quick search of #rosehair on the 'gram, I found dozens of photos of pastel-dyed ombré and balayage – it appears that social media style mavens "just can't even" with this latest trend.
While I personally have no intentions of walking into the salon, going all Adam Levine, (swoon, but no more pale pink 'do, pretty please) and asking for this hair color, this new Instagram beauty fad gets a double-tap heart/like from me. Hashtag no filter… I mean, yes, filter.
Posted by Ilana.